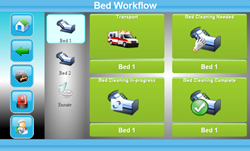 Workflows that reach down to the bedside are an exciting application and have the potential to be a significant contributor in helping nurses.
Birmingham, West Midlands (PRWEB UK) 1 September 2015
Modern Nurse Call is now an extension to a buildings core data network alongside other related technologies. As a result it's finding a new place in care.
That place is called the final leg of care, otherwise known as the "last mile", to the hospital beside or nursing staff. In this place, future proofed Nurse Call systems like Tacera Pulse can be a catalyst to improving patient flow.
An example of how Tacera Pulse can impact patient flow is in the real time management of beds.
When specifying and deploying a Nurse Call system like Tacera Pulse, Workflow panels or virtualized workflows on Patient & Duty Stations are strategically located next to bedsides, within bays or on walls in ward corridors.
This enables Nursing staff to quickly define the state of any given bed and in turn sequence events automatically to change that beds state, ready for the next patient.
Workflows have been designed to free staff of mundane administrative tasks and allow them to concentrate on essential care. This results in less administration and an improved patient experience. All this is performed from within Tacera's Pulse CMx2F engine.
Once a workflow is triggered the CMx2F engine can raise a status call on the system which can be displayed anywhere in the hospital. It can send messages to relevant staff members alerting them of the status and where the event occurred. If needed it can give members of staff the ability to open real time communication channels between parties and continues to monitor the status of flows, trigger associated flows at predefined events and log all activities for audit trial purposes. Once programmed, all this happens for the Nurse at the touch of a single button.
That's not all though. It gets really interesting when you introduce real time location (RTLS) into the same environment as this brings even more workflow enhancements, further improving the care experience.
With a fully integrated system, messages can now be sent to only those staff within a certain proximity to an event or when a member of staff arrives at a specific location the status of an event can be automatically updated such as "Nurse Present".
Nic Windley, General Manager commented: "Workflows that reach down to the bedside are an exciting application and have the potential to be a significant contributor in the fight to help nurses dis-burden themselves from mundane administrative tasks and focus on delivering the best patient experience, whether that be in a care home or a hospital. It's the bright stars in care that are adopting technologies like this."
Forward thinking care provides such as care home groups and NHS Trusts looking for further information or to book a live demonstration can call 01527 877 778 or visit http://www.austco.com/UK/products/acute-care/tacera to find out more online.