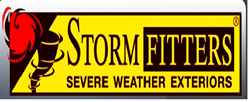 We offer value for money storm abatement products and services to achieve ultimate in customer delight.
(PRWEB) July 31, 2015
Serving Florida for more than three decades, StormFitters excels in procuring and installing high quality storm abatement products. It has so far completed over 15,000 projects to utmost customer satisfaction. These figures are enough to tell why StormFitters remains the preferred choice of Floridians who want to keep their properties, prized possessions and family members safe from the fury of nature. By offering storm abatement solutions with a difference, the company has provided protection to domestic and commercial property owners during inclement weather conditions in Florida.
While answering a query related to products and services, one of its senior executives working with StormFitters stated, "We offer value for money storm abatement products and services to achieve ultimate in customer delight. We are clear expert in providing all kinds of hurricane protection products and installing them to perfection in Tampa Bay market area, 10-county, Clearwater, and St. Petersburg. Customers can reach out to us to find a wide variety of hurricane panels, security doors, windows, fabric protection and storm shutters. No matter if customers want us to install severe weather products in new building or replacing them in already built ones, we do it with a difference."
StormFitters works with code authorities, suppliers and others to offer a find blend of products and services to ensure customers get value of money every time. The company does severe weather product installation in such a way that it not only adds more to the overall beauty and structural strength but also increases the value of property manifold. The entire range of products thwarts debris from flowing in during storm other than blocking the air leakage from the commercial and residential properties. This helps property owners cut the energy bills and save big.
When asked about the availability and installation of severe weather windows, the executive further stated, "Installing any and every kind of severe weather windows isn't a problem with us at all. Customers who want to install severe weather windows in Clearwater, Tampa or any adjoining area can fully rely on us for expert services and on time completion of project. Whether a customer wants to install Hurricane Silverline Windows, Windows, Storm Windows, Impact Windows, Anderson Windows, Architectural Windows, Custom Windows or Retrofit Windows, we do it without any error."
StormFitters also has considerable expertise in replacing windows in already built structures. For custom home windows on existing panels or new windows, the company is adroit at exploiting the best window manufacturing process for both impact and non-impact designs. Owing to these reasons, those who want new window installation services in Tampa, FL or install new windows in Clearwater, FL can count on StormFitters.
About StormFitters:
St. Petersburg, Florida based StormFitters remains the preferred choice of domestic and commercial property owners in 10-county, Tampa Bay market area, St. Petersburg and Clearwater who want buy quality storm abatement products and hire expert installation services at reasonable prices. The company is in the business for more than 30 years and has successfully completed well over 15,000 projects so far. This speaks enough about the expertise StormFitters has in the field and popularity it enjoys among domestic and commercial property owners. Those who want to get house window installation in Tampa, FL should look no further than StormFitters.
Contact Details:
StormFitters 2501 Anvil St. N.
St. Petersburg, FL 33710
FL Lic# CGC 1516020
Phone: (727)544-0575
Fax: (727)545-2365
Mail: StormFitters@gmail.com
Web: http://www.stormfitter.com/
###