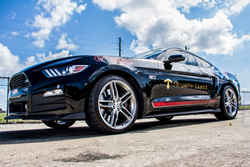 "We intend to push the Triumph Games competitors with the physical and mental challenges that come with a professional motorsports competition."
(PRWEB) July 30, 2015
The 2015 Triumph Games, set to take place in New York August 24-29, 2015, today announce and thank the tremendous partners in the motorsports racing community. The Motorsports component of the Triumph Games, Round 3, will take the 12 veteran athlete competitors out of their comfort zone, and challenge their mental and physical adaptability, agility, perseverance and strength. The Triumph Games partners are leading motorsports professionals and organizations to bring this event to life at a world-class level.
The Triumph Games' Motorsports Director, Solomon Rosenthal, has lead the effort to bring these top organizations together to support the athletes. Sanctioned by National Auto Sport Association (NASA) https://www.nasaproracing.com , Round 3 of the Triumph Games will be executed through Tire Rack One Lap of America http://www.onelapofamerica.com, and will be run in the One Lap format.
NASA and the motorsports racing community have rallied around what the Triumph Games stands for, each contributing in their own way. Be it by donating high performance state-of-the-art equipment, supplying vehicles, one-on-one training, or Alan Wilzig donating the use of Wilzig Racing Manor, an exclusive private racing estate in West Taghkanic, NY, the Motorsport community has sent a clear statement of support.
Rosenthal said, "The response to our effort has been nothing short of astounding. From those enthusiasts at the grassroots level of motorsport to the pros in racing in NASA, TUDOR, Pirelli World Challenge and NASCAR, they have all expressed the common sentiment of wanting to help these incredible athletes succeed in the motorsports competition of the Triumph Games. The greatest thing about it is they (those in the motorsports community) have taken it miles beyond sentiment. They have offered to mentor, create videos and try to meet with the athletes to make sure they are as prepared and as comfortable as they can be. This type of reaction is why I have always been proud to call the motorsports community my family."
"With regard to the competition itself, we intend to keep it as an incredible challenge. No one in this competition has extensive track experience nor has seen the track. We intend to push these athletes with the physical and mental challenges that come with motorsport competition. This is one of the reasons why we chose the One Lap style of time trial as our format. The day of the competition the drivers will have only one lap to remember the track and then have to set 3 fast laps. They are scored off the cumulative of those times so being smooth and consistent is going to be the key to winning this event." said Rosenthal.
ROUSH PERFORMANCE has donated two specially prepared Stage 2 Ford Mustangs for the competition. Jack Roush Jr. said: "Our young men and women in the military assume the ultimate risk for themselves to help protect the freedoms that we all enjoy. For them to overcome injuries that would defeat the average person and excel despite them is something worthy of celebrating. We are very honored to be a part of the Triumph Games." In another example of going far beyond just providing vehicles for the competition, over the past few months ROUSH Performance has worked closely with the Triumph Games to develop a unique package for the vehicles that should give the athletes the best chance of success. With valuable input from pro drivers such as Liam Dwyer and the engineering team at ROUSH Performance, it was decided that two special Stage 2 cars would be built and optioned with the ROUSH Performance Suspension, Upgraded Brakes, ROUSH Active Performance Exhaust System and hand controls. With 435 horsepower and the legendary ROUSH handling attributes, the Triumph Games Athletes will be competing in world class vehicles.
http://www.roushperformance.com/
http://www.roushperformance.com/vehicles/mustang-2015-stage2.html
Alan Wilzig, Owner of Wilzig Racing Manor, said "It's an honor to host any event that benefits, highlights and honors the sacrifice made on all of our behalf by every service person in America and around the world. Playing host to the Triumph Games, an event that focuses on individuals who have lost much but clearly have not lost the sprit, will, yearning and determination to be triumphant in success is a great opportunity to show our armed forces the appreciation Wilzig Racing and the motorsport community has for their service. As the saying goes: I am happy just to be here in such esteemed company." http://alanmoto.com
Sgt. Liam Dwyer, Triumph Games motorsports coach, consultant, professional race driver in the TUDOR series for Freedom Autosport Mazda and a retired Marine, said: "Having Motorsports as the final competition of the Triumph Games brings a very different element to these athletes they've never experienced before All these athletes know and understand competition relative to the sports they have competed in. What they will finally be able to see is the bravery, concentration and skill it takes to drive a car fast. It was an honor and privilege of mine to be able to take some of these athletes for a hot lap around Sebring Raceway in a ROUSH Stage 2 Mustang. For most of them, that was their first track experience and their first experience of driving a car fast. I hope they were able to learn a little that day about the level of skill race drivers have. I look forward to working with them at the Triumph Games and to continue building relationships with all the athletes".
https://www.facebook.com/LDRacing?fref=ts
https://twitter.com/liamdwyerracing
Billy Johnson, Triumph Games motorsports coach and the second winningest driver on the Ford Mustang platform in the Grand-Am series fresh off his latest Tudor/Continental Tire Sportscar Challenge victory this past Saturday at Lime Rock Raceway Park , said: "The Triumph Games is a fantastic initiative and one that hits close to home. I'm honored to be able to give something back to these amazing, brave men and women for everything they have sacrificed for our country by coaching them and sharing driving techniques and skills from my professional racing background to help them succeed". The Triumph Games congratulates Billy on his victory.
https://www.facebook.com/BillyJohnsonDriver?fref=ts
https://twitter.com/billyjracing
http://www.billyjohnsonracing.com/