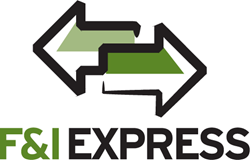 "Smart automotive retailers realize they need to provide customers with answers – right now. Answering a customer inquiry quickly and efficiently can often make the difference between winning and losing a sale."
Dallas, TX (PRWEB) July 30, 2015
F&I Express today announced it has launched ExpressQuote, a new feature added to the company's cloud-based tool to help automotive F&I Managers provide customers with fast, accurate quotes on aftermarket products.
ExpressQuote links F&I Managers to product and price information from the industry's largest network of aftermarket insurance product providers. With just the automobile VIN and mileage, F&I Managers can quickly access 100 percent accurate aftermarket quotes, set a limited time availability on the offer, and print to give to the customer. This allows dealerships to engage customers in a conversation about F&I products when they are in a different department. For example, customers might be much more receptive to F&I messages when they are in the service department getting work done on their vehicle.
"F&I Managers need a fast and accurate way to quote customers, even when they aren't in the F&I office" said Brian Reed, CEO of F&I Express. "With ExpressQuote, F&I Managers can access pricing information from multiple sources in real time. Today's auto shoppers are often time pressed and will want a quick quote from the dealership. ExpressQuote helps automotive retailers meet their customers' expectations."
Reed added that providing more F&I information to customers earlier in the shopping process will prove to be a significant advantage to automotive retailers in the long run, as better-educated consumers are often easier to close.
"It really comes down to a customer service issue," Reed said. "Smart automotive retailers realize they need to provide customers with answers – right now. Answering a customer inquiry quickly and efficiently can often make the difference between winning and losing a sale."
ABOUT F&I EXPRESS
Intersection Technologies Inc. - F&I Express® is the leading technology and solutions provider to the automotive F&I industry. The F&I Express eContracting network enables aftermarket providers and agents the ability to increase their dealer clients' CSI ratings by providing a faster and error-free process to eRate, eContract, and eRegister all of their aftermarket products on one platform. The ExpressRecoveries program helps auto finance sources improve recoveries and compliance for ancillary product cancellations. For more information about the innovative technologies, please visit http://www.fandiexpress.com/ or follow on Twitter @fandiexpress