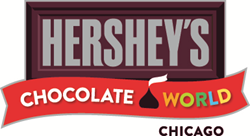 Chicago, Illinois (PRWEB) July 31, 2015
Hershey's Chocolate World Chicago is a unique 3,600 square-foot interactive retail experience located on Michigan Avenue, behind the historic Water Tower landmark. The store features exclusive Hershey's products and merchandise, the Hershey's Magnificent Chocolate Works Machine, and an in-store Bakery.
"We're very pleased to have won TripAdvisor's 2015 Certificate of Excellence award as guest interaction and satisfaction are central to the Hershey's Chocolate World Chicago experience. Receiving consistently positive reviews from TripAdvisor travellers is a major accomplishment and we'll continue to use feedback from our guests as a means to create memorable and one-of-a-kind Chicago experiences," says Susan Graening, General Manager of Hershey's Chocolate World Chicago.
While visiting the Hershey's Chocolate World Chicago store guests can personalize their own chocolate bar wrapper, shop for exclusive souvenirs and specialty items such as the world's largest 5lb Hershey's Bar, and taste freshly made treats and baked goods.
The Hershey's Chocolate World Chicago store is located along the famous Magnificent Mile shopping strip at 822 N Michigan Ave. For more information, please visit http://www.hersheyschocolateworldchicago.com
About The Hershey Company:
The Hershey Company, headquartered in Hershey, Pa., is a global confectionery leader known for bringing goodness to the world through its chocolate, sweets, mints and other great-tasting snacks. Hershey has more than 22,000 employees around the world who work every day to deliver delicious, quality products. The company, which has more than 80 brands around the world that drive over $7.4 billion in annual revenues, includes such iconic brand names as Hershey's, Reese's, Hershey's Kisses, Jolly Rancher, Ice Breakers and Brookside. Hershey is focused on growing its presence in key international markets while continuing to build its competitive advantage in North America. Additionally, Hershey is poised to expand its portfolio into categories beyond confectionery, finding new ways to bring goodness to people everywhere.