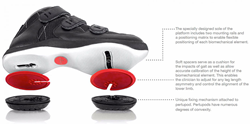 NYC, New York (PRWEB) July 31, 2015
Physical therapy for knee osteoarthritis is an important part of knee pain treatment. Experiencing chronic knee pain limits the patient's quality of life. It keeps the patient from doing what they want or need to do. The patient may have trouble getting in and out of cars and may have a hard time using the stairs. The patient's exercise regime may be limited by the pain in their knee. When a patient sees their physician, he or she will probably suggest physical therapy to build up the patient's knee muscles. One of the therapies they may suggest is the latest in physical therapies for the knee, called APOS Therapy.
NYDNREHAB is the first physical therapy, rehabilitation center in the New York area to provide APOS Therapy. Choosing a great rehab center for a patient's knee osteoarthritis treatment will help patients feel better and make recovery and healing more efficient. If the patient needs knee physical therapy, the APOS system may be the best choice for them.
Knee pain and osteoarthritis do not only affect the knee or cause knee pain. It also puts the body out of alignment. If the patient is favoring one leg or limping, their body must make accommodations for the leg. These accommodations exert pressure on the hips, back, opposite knee, spine and neck areas. Many people who have had knee replacement surgery are astonished to experience pain in various other body parts after their knee surgery is completed. This pain is a result of the body being out of alignment due to the pain in one knee. If left untreated, knee osteoarthritis can cause wear and tear and the spread of arthritis in several other parts of the body, including the hips.
Gait Analysis
Gait analysis is the study of the way a person moves. When studying an individual's gait, several tools are used to determine if there are any physical problems with the way the person walks or moves. Trained personnel use various methods to analyze gait, such as:

Having trained observers watch how a person walks.
Using instruments to measure movements.
Studying the person's body mechanics.
Observing the person's body mechanics.
Specialized equipment is used to monitor a person when they walk on a treadmill or a catwalk. Once an individual's gait problems are analyzed, knee physical therapy can commence.
Using APOS Therapy
After an analysis has been completed, APOS treatment can begin. An APOS device is a highly individualized type of therapy used to treat knee and back pain. It is innovative, personalized, drug-free, non-invasive and non-surgical. A biomechanical device is worn on the foot, which is adjusted to patient's unique specifications. This device is calibrated and monitored by specially trained physiotherapists. Using the device can prevent further knee arthritis damage and also prevent hip arthritis, too. Hip arthritis can be caused by walking incorrectly, so the device can help a patient's hips and knees feel better.
The APOS device adjusts the way a person walks and realigns the pressure of walking to the center of the knee, taking the pressure off of the sides of the knee. It is worn on the patient's feet as the patient goes about their regular daily routine. A patient's gait is adjusted with every step. This adjustment in gait allows a relief of pressure from an area of the worn cartilage of the knee and helps the person walk correctly. The knee receives relief from pressure and pain, and wear-and-tear on knee cartilage is significantly reduced. The APOS device can be adjusted to suit anyone's individual needs, and should be monitored and adjusted only by a specially trained physiotherapist.
When a patient uses an APOS device, the patient can partake in knee physical therapy for knee osteoarthritis without going to a rehab center. There's no need to get dressed or go out of the house, and no need to make appointments and miss work. Most people don't even notice they are working on and improving the way they walk, but, while doing so, the patient is steadily improving their knee health and reducing their knee pain every time the APOS device is used.
NYDNRehab strives to provide the best, most advanced care for their patients. For more information on how NYDNRehab can help you decrease your knee pain, please call 866-311-5889 or visit online at http://nydnrehab.com.