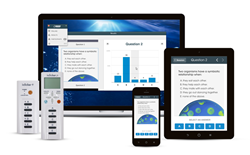 We are very excited about both software releases as it is a significant step in bridging the transition from traditional clickers to a true, mobile experience
New York, NY (PRWEB) July 31, 2015
The new REEF Education software platform from i>clicker is a re-imagining of i>clicker's technology to incorporate the vast new possibilities opened up by mobile devices in the classroom.
REEF Education is a mobile-optimized, scalable engagement platform designed to support a suite of products the higher education market can utilize to facilitate student, educator, and institutional collaboration.
REEF Polling by i>clicker, the first product within the platform, allows instructors to present with anything, utilize a floating toolbar, view a participant list, and send images of questions to student devices. Students respond to polling questions with any device, receive correct and incorrect answers, and can review session history as a study guide outside of class. REEF Polling is also a hybrid product, allowing students in the same classroom to use their smart devices alongside i>clicker remotes. REEF Polling supersedes the previous mobile solution, i>clicker GO, providing a superior experience through smartphones, tablets and laptops.
REEF Education 2.0 is now available for download, offering instructor features for REEF Polling that include:

Single-button LMS grade synchronization using LTI integrations
Compatibility with all LTI-compliant LMS platforms, including Blackboard Learn, Canvas, Desire2Learn, Moodle, and Sakai.
Support of student single sign-on access through the LMS that also creates an association link between the LMS and REEF Polling grade book eliminating the possibility of students mis-keying student ID's
In conjunction with the announcement of a new mobile-optimized offering, i>clicker 7 software was released and is a version that was written in an entirely new code base. Apart from performance improvements, i>clicker 7 features include:
An integrated gradebook (replacing the separate i>grader application)
Improved LMS integrations
Support of REEF Polling; sending of questions with images to student devices
Export of Excel reports of aggregate and individual response data
The i>clicker software update is particularly important for instructors who want to continue using a mobile polling solution as they are required to move from i>clicker 6 to i>clicker 7 or transition to REEF Education 2.0.
i>clicker 7 is now available for download.
Both software options released by i>clicker work with its traditional clickers. The company's hybrid strategy—allowing both mobile devices and clickers to be used at once—reflects i>clicker's understanding that plenty of campuses do not have the appropriate Wi-Fi infrastructure with classrooms that can handle a large number of mobile devices at once. In other cases, many instructors continue to want limits on mobile access and wireless devices in their classrooms, finding them distracting at times and difficult to control.
"We are very excited about both software releases as it is a significant step in bridging the transition from traditional clickers to a true, mobile experience," said Kevin Pawsey, President of i>clicker. "We listened carefully to our customers and I believe we have two very exciting options that serve the entire market, giving administrators and instructors the reliable tools and performance that they know and love."
For more information on REEF Polling, or to request a demo, please visit: http://reef-education.com/ or email contact(at)iclicker(dot)com
For more information on i>clicker 7, or to request a demo, please visit: http://www.iclicker.com or email contact(at)iclicker(dot)com
i>clicker will be hosting a 30-minute webinar to discuss the newest functions and features of i>clicker 7. There will also be a Q&A period to address any questions or concerns about the upgrading process. Register today.
About i>clicker
i>clicker was built by educators for educators with the goal of keeping students focused on content, not technology. i>clicker is the most widely used student response system in North American higher education, adopted at more than 1,100 institutions and used by more than three million students. i>clicker's student response system continues to be recognized for its superior reliability, intuitive software, and focus on formative assessment and pedagogy. Today, i>clicker is powered by flexibility giving professors the choice to standardize with one remote, or take a blended approach of mixed mobile and conventional remotes in their classrooms. i>clicker is a Macmillan New Ventures company.