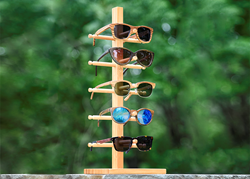 We knew our products were unique and fashionable, and we believed customers would react favorably to our line, however, we kind of underestimated how popular our line would be
Cape Cod, MA (PRWEB) August 04, 2015
Daniel James Eyewear of Cape Cod is pleased to announce the successful launch of a wholesale program, in addition to the existing retail program. As part of the expansion plan, Daniel James Eyewear is now accepting indications of interest from stores and boutiques interested in carrying the line of exotic wood sunglasses, classic sunglasses and swim goggles in 2015 and 2016. The line of exotic wood sunglasses has received a very favorable response from existing customers, who have raved about how comfortable, lightweight, eco-friendly and fashionable the exotic wood sunglasses are.
Stores or boutiques interested in carrying the unique line of eyewear may contact us via email at dan(at)danieljameseyewear(dot)com. Based on popular demand, those interested in placing an order for 2016 should touch base before November 2015 so that we have sufficient lead time to meet customer needs for the spring and summer of 2016.
"The response has been overwhelming," stated Daniel Stickney, the founder of Daniel James Eyewear. "We knew our products were unique and fashionable, and we believed customers would react favorably to our line, however, we kind of underestimated how popular our line would be."
Don't miss this opportunity to carry the unique and beautiful line of Daniel James Eyewear. Customers will surely be excited to tell friends about the unique and fashionable line of eyewear.
Visit our website at http://www.danieljameseyewear.com to see our full product line and new offerings.
Testimonials:
1. It was love at first sight, the natural wood, the smooth feel, and I looked pretty cool too…for an old broad. But my DJ's turned out to be much more than just a pretty bauble. The fit is great, no slipping, no pressure on my sinuses (allergy season can be the worst!) and the clarity is amazing. Driving west on the highway on a sunny afternoon used to be dreadful, but my DJ's turn the glaring sun into tiny points of blue – amazing! Thanks, Daniel James Eyewear! - Mary, Rhode Island
2. I purchased a pair of DJ's Tortoise shell/Redwood sunglasses, and honestly, I could not be happier. They are superior in quality to the "big name brand" pair of sunglasses I had previously purchased. The lenses are incredible and I can see things crispy and clearly. Because of the spring hinges, they fit my fat head like a glove. And they are extremely fashionable. I get compliments about them whenever and wherever I wear them. I would highly recommend DJ sunglasses to anyone interested in quality, comfort and fashion. – Brad, Illinois
About Daniel James Eyewear:
Based in Cape Cod, Massachusetts, Daniel James Eyewear offers high-quality and fashionable eyewear at reasonable prices to protect the eyes of your loved ones. Daniel James Eyewear offers exotic wood sunglasses, classic sunglasses and swimming goggles on a retail and wholesale basis. If you are interested in trying out a pair of our eyewear, or have questions, please contact us at info(at)danieljameseyewear(dot)com. You will be glad you did.