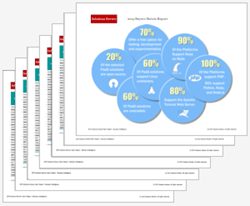 For the first time ever, cloud solutions are set to surpass on-premise solutions in overall enterprise IT spending
Woburn, MA (PRWEB) July 31, 2015
Today, Solutions Review has released a new buying tool, The 2015 Buyer's Matrix Report: Cloud Platform as a Service (PaaS), to assist CIOs and IT professionals in making the difficult decisions involved in evaluating and selecting a Cloud PaaS solution for their organization. The Buyers Matrix Report is a visual reference and summary of the top-10 best-of-breed PaaS solutions in the market today. Direct comparisons of the 10 PaaS solutions and their offerings are provided in an easy to digest matrix, spanning specific categories which include Features, Languages, Middleware, Frameworks, and Services.
Over the past decade, enterprise technology has experienced an explosion in growth and mobility that has left traditional on-premise solutions struggling to keep up. For years, IT experts have hailed cloud computing as the solution to the modern enterprises' need for a flexible and scalable IT environment, and now, for the first time ever, cloud solutions are set to surpass on-premise solutions in overall enterprise IT spending.
With this increase in cloud adoption, many enterprises are seeking to expand their cloud usage beyond the typical infrastructure and software as a service use cases. The PaaS model of cloud computing in which a vendor provides the user with the hardware and software tools necessary to create, deploy, and manage applications at scale, via the internet, as a service, has emerged as a major component of the modern hybrid IT environment
"The PaaS landscape is evolving in real time— finding and deploying the right solutions can be a challenge," says Jeff Edwards, Solutions Review Editor and author of the matrix report, "At Solutions Review, we believe that the best approach to choosing a PaaS solution is to start with the people who will be using it: developers. To that end, we've created the PaaS Buyer's Matrix Report to provide buyers with an easy tool for comparing the top 10 best-of-breed PaaS solutions across the criteria that matter most to developers."
The 2015 Buyer's Matrix for PaaS Cloud Solutions evaluates the following PaaS providers: Amazon Elastic Beanstalk, Microsoft Azure, Centurylink Appfog, Cloudcontrol dotCloud, EngineYard, Google App Engine, IBM Bluemix, Pivotal Cloud Foundry, Redhat Openshift, and Salesforce Heroku.
With the release of this latest tool, Solutions Review for Cloud Platforms continues to distinguish itself as the best online resource for CIOs and IT professionals looking to locate the best PaaS, Infrastructure-as-a-Service (IaaS), and Software-as-a-Service (SaaS) solutions for their needs. The Buyers Matrix coupled with Solutions Review's 2015 Buyers Guide for Cloud Platforms, which offers detailed profiles of 28 Cloud providers spanning PaaS, IaaS and SaaS, will arm IT professional with all the relevant information needed to assist them in their search for appropriate cloud solutions.
About Solutions-Review.com
Solutions Review is a collection of online news sites bringing the latest technology news, opinions, social media, best practices and industry events together in one place for our readers. With a strong focus in the Enterprise Mobility, Big Data, Data Analysis, Identity Management sectors and the Cloud, Solutions Review is managed by a team of content experts and features original content along with a thoughtful aggregation of industry best practices and solution news. Solutions Review allows seekers of technology solutions to make thoughtful and informed decisions.
Contact:
Matt Adamson
339-927-9237
madamson(at)solutions-review(dot)com