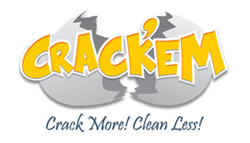 (PRWEB) July 31, 2015
"Crack'em" was featured on NewsWatch as part of its monthly Tech Report, which features the latest and coolest technology products available to consumers. Amanda Forstrom, a technology expert and special reporter for NewsWatch, conducted the review and shared with viewers how this tool helps chefs make less mess while cooking.
Cooking can be a very messy experience, especially when cracking eggs. Cracking an egg is easy, for the most part, but a mess is pretty much guaranteed. Well, Marine Veteran David Tennant came up with a solution and it's called the Crack'em.
Their motto is crack more, clean less. Funded through Kickstarter the genius ergonomic design is very simple. The device is made of durable food-safe plastic and is recyclable. The ridge in the middle is used for cracking eggs while the tray holds any egg spill so it doesn't end up on the counter or the side of a pan.
The Crack'em also doubles as a spoon or spatula rest while a person is cooking so its dual purpose makes it incredibly useful. It's easily stacked without damaging the ridge because of a gap on the bottom. The Crack'em comes in four colors: red, white, blue and black. The Crack'em can be purchased individually for $6 or packs of 3 for $15, 5 for $25, or 10 for $50.
To learn more, visit http://www.crackemeggs.com today.
About NewsWatch
NewsWatch is a weekly 30-minute consumer oriented television show that airs on the Discovery Channel and ION Network. NewsWatch regularly features top technology products and services, mobile applications for iOS, Android, and Windows devices, unique and beautiful travel destinations around the world, health and medical tips, and entertainment interviews on the show. NewsWatch airs on the Discovery Channel at 7:00 – 7:30 AM ET/PT.
NewsWatch is located in the greater Washington, DC area and has been on air for over 25 years. For more information or to watch the most recent episode, visit http://newswatchtv.com/tech-report.html.