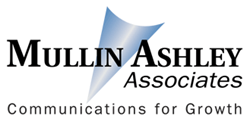 Chestertown, MD (PRWEB) July 30, 2015
Mullin/Ashley Associates, Inc., an integrated communications firm serving the Mid-Atlantic region, is the recipient of three awards in the Service Industry Advertising Awards 12th annual national competition.
The awards were won for communications programs created for Choptank Transport, KRM Development Corporation and University of Maryland Shore Regional Health.
A Gold Award was won by Mullin/Ashley for a comprehensive package of marketing and promotional materials designed for Choptank Transport, one of America's fastest growing third-party logistics companies. Headquartered in Preston, Md., Choptank Transport provides truckload, LTL, intermodal and refrigerated transportation and warehousing services to a nationwide customer base.
The campaign materials produced by Mullin/Ashley were designed to attract the best quality carriers and broker personnel by communicating Choptank's forward-thinking and industry leadership. The materials included brochures, presentation folders, trade show marketing materials, signage, and web/digital communications tools.
In addition, a Silver Award was won by Mullin/Ashley for a video produced for KRM Development Corporation, a nationwide developer of industrial parks and other commercial real estate properties headquartered in Stevensville, Md. The video introduced plans for the development of Duck Creek Business Campus, a large commercial business park located on the outskirts Smyrna, Del. The purpose of the video was to educate elected officials, prospective tenants and the community at large about the development project and its prospects for long-term job creation and tax revenues. Mullin/Ashley was responsible for creative development, scriptwriting and video direction.
Also, an Award of Merit was won by Mullin/Ashley for a Nursing Annual Report produced for UM Shore Regional Health. UM SRH is the University of Maryland Medical System's presence on the Eastern Shore. It is based in Easton with additional hospital facilities and physician offices located in Cambridge, Chestertown and other communities. The 32-page illustrated Nursing Annual Report covered the extensive and varied nursing activities of UMMS personnel including its wide-ranging community outreach and support.
This is the 12th year that the Service Industry Advertising Awards competition has been run. During that time it has become one of the marketing communications community's most important awards programs. It is billed as the only awards competition that focuses exclusively on communications achievements in the service industry, which encompasses a variety of segments including healthcare services, associations and other membership organizations, utilities, transportation services, financial services, real estate development and management services, plus educational institutions, hospitality and entertainment.
More than 1,500 entries were submitted in the 12th annual SIAA competition and were evaluated by a national panel of judges for creativity, content, production quality and overall audience appeal. Mullin/Ashley was the only Maryland-based advertising agency or service company to receive awards recognition in this year's SIAA competition.
Established in 1978, Mullin/Ashley Associates is a communications, PR and marketing research firm serving industrial, commercial, healthcare and service organizations. Based in Chestertown, Md., the company has clients in seven states plus Europe. Web site address: http://www.mullinashley.com.