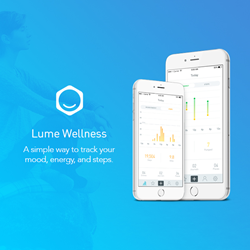 Lume Wellness came about because we wanted to become healthier in our personal lives.
Atlanta, GA (PRWEB) August 01, 2015
Lume Wellness creators Alex, Robert, and Sam have announced update 3.0.1 to this unique iPhone app that is free to download on the Apple AppStore.
The app is designed to track various metrics of wellness, including physical activity, diet, sleep, energy levels, even mood, thus acting as a tool to view personal health and use this information for positive behavior modification. Lume Wellness keeps track of both steps and distance, while also focusing on other daily activities and paying attention to the connection between mind and body. The latest update offers new features such as an entry timeline and the ability to export data.
Speaking on behalf of the developers, Alex explains the history behind the app. "Lume Wellness came about because we wanted to become healthier in our personal lives. What we came across was a lot of conflicting information, bad advice, and terrible plans that didn't yield the results we wanted. We then did research into being healthier and building healthier habits and we realized that we had the opportunity to share this information with the world: how to be healthier and have better overall wellness."
Additional features planned for 2015 include calorie tracking, diet tracking by food group, number of servings, and macro-nutrients, a tailored diet program, and meal plans with curated recipes to help keep eating on a healthy track.
About Magnimbus:
Magnimbus is a small startup focused on creating wellness apps that are comprehensive in their ability to improve mental and physical health. Magnimbus is based in Atlanta Tech Village in Buckhead, Georgia, a site that's home to over 100 other innovative startups.