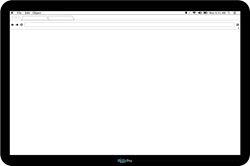 ..ideal for web designers, developers and freelancers in need of a space on which they can "play" with the look and feel of the pages they are creating for their clients
Westlake Village, CA (PRWEB) July 30, 2015
The team at WriteyBoard built a reputation on their energetic, innovative approach to communication. The team is at it again, and this time they've set their sights on the tech community. WriteyBoard's already extensive catalog of business tools just got more exciting as WriteyBoard unveiled its latest incarnation, the "Browser Board" which is now available online.
The latest technology has a need for flexibility and mobility, this was the motivation behind WriteyBoard's re-stickable adhesive whiteboards and accessories. By allowing customers to roll up and relocate their whiteboard, WriteyBoard has empowered mobile business people, as any room could become a conference room or collaborative creation space. No space sacrificed, no holes drilled in walls to mount cumbersome traditional whiteboards, and no storage space lost to the old-fashioned boards on rollers.
Similarly, schools have benefited from WriteyBoard's cost-saving solutions. But education doesn't limit itself to the confines of the classroom. Home educators and traditional teachers often incorporate field trips to their curriculum. Whether it be it at a zoo, a park, a local library or museum, school often steps outside to show real world application of lessons learned. WriteyBoard's mobility means that an educator can turn something as simple as a picnic table into a platform for further education.
Catering to the ever-growing tech communities, WriteyBoard just launched a new product they are referring to as the "Browser Board." The newest business tool is a dry erase board that looks like a web browser page (see picture) and is ideal for web designers, developers and freelancers in need of a space on which they can "play" with the look and feel of the pages they are creating for their clients . Visualization is an integral part of the creative process and WriteyBoard has stepped in to make that process as complete as possible. The 2' x 3' board has vector icons and lines that provide the Browser Board with a crisp clarity that mirrors an actual computer screen.
Tech-oriented companies such as Uber, Beats, Tinder, Samsung, EA Games, Curbside, and even NASA are all using WriteyBoard products and the Browser Board is one more way the team is demonstrating their dedication to their customers.
As with all of their products, WriteyBoard is offering their latest brainchild at an enticing price point. WriteyBoard's commitment to affordable, quality whiteboard capability was one of their core values at the time of the company's inception. They continue to be thoughtful thought leaders as the company grows into a leading office and school supply provider.
About WriteyBoard
WriteyBoard is a dry-erase technology leader whose products are revolutionizing creative communication. The WriteyBoard ideology of economy and accessibility offers everyone the opportunity to THINK OUT LOUD.
About A Design Partnership
Founded in 2009 and located in Westlake Village, California, A Design Partnership is a marketing and branding agency specializing in servicing the creative industries. To learn more about A Design Partnership, visit the company's website at http://www.adesignpartnership.com