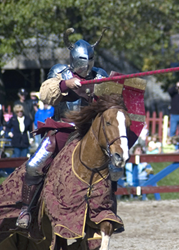 Ride through beautiful farmlands with a rental or tour from Intercourse Bike Works.
Lancaster, PA (PRWEB) July 30, 2015
There's still time for summer fun in Lancaster, much of which will spill into autumn, too.
One such opportunity is the 35th season of the Pennsylvania Renaissance Faire, opening August 1 at the Mount Hope Estate in Manheim and continuing weekends and Labor Day Monday through Oct. 25.
Enjoy jousting knights and royal delights as hundreds of colorfully-costumed characters breathe life into an authentic recreation of a 16th century English village, along with period foods, microbrewed ales, and scores of Renaissance merchants.
Also marking an anniversary year is Cherry Crest Adventure Farm in Ronks, operating for a 20th season (through Nov. 7) and featuring the new Country Pig Races and one of the top corn mazes in the U.S.
Kitchen Kettle Village in Intercourse is always a summer and fall favorite, with its homemade jams, relishes, and more, plus a collection of new and updated stores in a fresh "crossroads" area of the Village and a varied menu of authentic, locally-made items offered by their 40 specialty shops.
Ride through beautiful farmlands and villages with a rental or tour from Intercourse Bike Works, or get active with the facilities at Spooky Nook Sports in Manheim. Visitors can even refuel and recharge at Spooky Nook with their stylish new onsite restaurant – Forklift & Palate – and hotel – The Warehouse.
Want to experience some true down-home PA Dutch cooking? Then venture to newly-opened Fisher's Amish Restaurant in Intercourse, owned and operated by local Amish couple Leroy & Barb Fisher.
A different take on the area's culinary heritage can be had at Bube's Brewery in Mount Joy – the only U.S. brewery from the 1800s that has survived intact. Enjoy a Bube's microbrew with a delicious meal in one of four dining settings: the Catacombs, the Biergarten, the Bottling Works, or Alois.
In Downtown Lancaster, the Little Dutch Taproom and the Spring House Brewpub (featuring their own local creations) have just opened this summer, and coming soon are both root – a vegan/vegetarian restaurant & bar – and 26 East, a three-story venue with Bistro Barberet & Bakery on the first floor, event space on the second, and the Altana restaurant on the third (with rooftop terrace).
And come autumn, be sure to combine these delectable downtown choices with a production from the fantastic upcoming seasons of the Fulton Theatre or the Lancaster Symphony Orchestra.