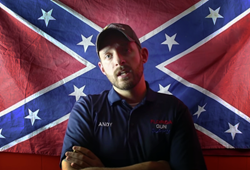 Equal protection for all makes America great. We all have a duty to assure that this bedrock principle remains part of our fabric. —Bernie Mazaheri
Ft. Lauderdale, FL (PRWEB) July 31, 2015
This week, Florida gun store owner Andy Hallinan made national news when he declared his business, Florida Gun Supply a "Muslim-free zone."
"I will not arm and train those who wish to do harm to my fellow patriot," Hallinan declared, referencing the recent shootings in Chattanooga, TN. You can see his full statement in a video he posted to his company's Facebook page.
In response, the law firm of Morgan & Morgan filed suit yesterday on behalf of the Florida chapter of the Council on American-Islamic Relations (CAIR) against Florida Gun Supply for violating the federal civil rights law that affords accommodation to the general public. CAIR Florida was established in 2001 to challenge stereotypes of Islam and Muslims and to defend civil liberties in the state.
The lawsuit alleges that Florida Gun Supply in Inverness, FL initiated an illegal "Muslim Free Zone," a policy that segregates and discriminates against those who practice the Islamic faith. CAIR is not seeking any monetary damages, but rather is seeking an injunction to prohibit this illegal policy.
"Having a policy that discriminates against an entire religion and denies them access to a place of public accommodation is illegal. The plaintiff seeks an injunction to prohibit Florida Gun Supply's 'Muslim Free Zone," said Michael Hanna, Esq., a Morgan & Morgan attorney representing CAIR.
The Civil Rights Act of 1964 prohibits segregation and discrimination in places of public accommodation—such as restaurants, hotels and places of entertainment. In the complaint, CAIR alleges that Florida Gun Supply flouted federal law when it announced that it would not cater to Muslim-Americans.
"As a country we should not tolerate businesses that overtly discriminate against any group. There is no place in America for hate speech, segregation and discrimination, and no firearm dealer should be permitted to discriminate against any group based upon religion." said attorney Bernie Mazaheri, part of the legal team responsible for the suit.
"If Florida Gun Supply does not want to welcome all people into its establishment, regardless of religious belief, then it should not be permitted to continue operations. Everyone is entitled to equal protection, and a policy that restricts people from enjoying the benefits available to the general public based on their faith violates that protection, and simply cannot stand."
Morgan & Morgan are asking the United States District Court to prohibit Florida Gun Supply from discriminating against people based on their religion.

About Morgan & Morgan
Morgan & Morgan is one of the largest exclusively plaintiffs' law firms in the US, with 25 offices throughout Florida, Georgia, Mississippi, Tennessee, Kentucky, Pennsylvania and New York. The firm handles cases nationally involving discrimination, personal injury, medical malpractice, consumer class action, and securities fraud—as well as complex litigation against drug and medical device manufacturers.
Visit Morgan & Morgan online at ForThePeople.com for a free case evaluation and information about your legal rights.
________________________
*CAIR FLORIDA, INC., v. TEOTWAWKI INVESTMENTS, LLC d/b/a FLORIDA GUN SUPPLY, case number 0:15-cv-61541, in the United States District Court, Southern District of Florida
**http://www.huffingtonpost.com/entry/chattanooga-shooter-wrote-about-suicide-and-depression_55ad6819e4b065dfe89f27d7
***https://www.facebook.com/FloridaGunSupply/videos/vb.236200186537697/474501752707538