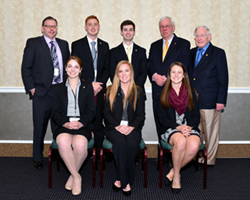 I have a lot more respect for the work that Financial Planners do and how much time it takes....David Ferraro (1st place team), Bryant University in Smithfield, RI
Middletown, OH (PRWEB) July 30, 2015
"We consider this competition as an exercise in real world scenarios," said IARFC CEO Ed Morrow RFC®. "The students review a case study of a fictitious client family and have to produce a deliverable financial plan as if they were catering to real life clients." Last year's top three teams presented their plans in person to a panel of judges during the finals at the Charlotte Motor Speedway Club – a perfect venue for competition and yielding winners.
The competition is funded by both corporate and individual sponsors. Invested in the future of the profession, the corporate sponsors get a chance to network with potential industry professionals as they start their careers. "It is an eye opening experience for these young people to meet experienced consultants and company representatives," relates venue host H. Stephen Bailey, RFC® of HB Financial in Charlotte, NC. "This competition provides the opportunity to jump start their careers as they approach graduation."
As for the individual sponsors, there are tiers of contribution that are available: Silver, Gold, Platinum and Diamond. The IARFC is fortunate to have many contributors who see the importance of this competition to the next generation of consultants. Most feel it is a great way for them to give back to the industry.
The students themselves appreciate the opportunity afforded to them by this collaborative sponsorship effort. "I don't think I necessarily understood beforehand how holistic it could be and all the aspects you had to look at to help someone with their financial security," expressed First Place winner David Ferraro of Bryant University in Smithfield, RI (partnered with Staci Rezendes). "I have a lot more respect for the work that Financial Planners do and how much time it takes."
Those wanting to get involved as a sponsor for the 2016 IARFC National Financial Plan Competition can email Amy Primeau or call 800.532.9060 ext 307. To obtain more information - visit the Plan Competition section of the IARFC website or watch the Competition Introductory Video.