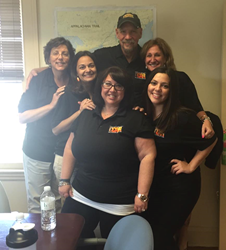 "You can be in recovery and do extraordinary things."
Hartford, CT (PRWEB) August 01, 2015
On March 19, 2015 Phil Valentine – the Executive Director of Connecticut Community for Addiction Recovery (CCAR) – began his 2,175 mile trek of the Appalachian Trail by stepping off Springer Mountain and heading north. Since that day, Phil has hiked over 1400 miles in nine states.
On July 26th Phil reached Connecticut and was greeted by friends and family. He visited CCAR and left an inspirational message to his staff: "You can be in recovery and do extraordinary things." Phil pushes himself every day to let people know addiction and cancer shouldn't stop anyone from doing extraordinary things. CCAR staff was delighted to see him after many months.
Since 1987, Phil has been in recovery from drug and alcohol addiction. In 2010 he was diagnosed with Stage 4 oropharyngeal cancer. After 39 radiation treatments, as well as several inpatient stays and many rounds of chemotherapy, Phil beat this cancer while maintaining his recovery. A short time later, he felt he was to hike the Appalachian Trail in its entirety, to share his story and to raise awareness that anything is possible in recovery.
An estimated 2500 hikers are attempting to thru-hike the AT this year, but only about one in four will succeed in this hike through 14 states. Phil has been hiking an average of 20 miles a day and is planning to reach Mount Katahdin, Maine in late September.
Many along the way have been asking "why are you hiking?" Phil's continued response has been "I want to leave a legacy that people in recovery from alcohol and other addiction, people in recovery from cancer, we do survive and we go on to do extraordinary things." Now 50 pounds lighter, Phil is ready to take on the rest of the New England Appalachian Trail, stepping back onto the Trail in Kent, Connecticut on July 28th.
Phil's journey can be followed online at http://www.AT4recovery.org or social media using #AT4Recovery.
The Connecticut Community for Addiction Recovery (CCAR) is a 501 c. 3 organization with three centers throughout Connecticut. Since 1998 CCAR has organized the recovery community (people in recovery, family members, friends and allies) to put a face on recovery and to provide recovery support services to help sustain recovery. By promoting recovery from alcohol and other drug addiction through advocacy, education and service, CCAR strives to end discrimination surrounding addiction and recovery, open new doors and remove barriers to recovery, maintain and sustain recovery regardless of the pathway, all the while ensuring that all people in recovery, and people seeking recovery, are treated with dignity and respect. CCAR envisions a world where the power, hope and healing of recovery from alcohol and other drug addiction is thoroughly understood and embraced. For more information, visit http://www.ccar.us.