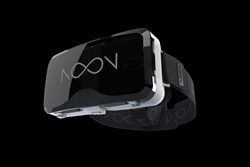 "Virtual reality is an emerging technology with tremendous potential to change the way people consume their home entertainment, whether it's by playing interactive games, watching theater-quality movies, or sharing home videos with a 3D feel."
Los Angeles, CA (PRWEB) July 31, 2015
Tech pioneer, NextCore Corporation, selected Los Angeles-based public relations firm PMBC Group as its agency of record. PMBC Group will provide public relations services to support NextCore's launch of its NOON virtual reality headset and KOOM virtual reality content creation and engagement app.
"We are thrilled to play a significant role in driving NOON VR's North American publicity campaign to introduce consumers to not only an affordable, high quality VR headset, but also a wide range of content found on the accompanying KOOM app," said Ola Danilina, CEO and founder of PMBC Group. "Virtual reality is an emerging technology with tremendous potential to change the way people consume their home entertainment, whether it's by playing interactive games, watching theater-quality movies, or sharing home videos with a 3D feel."
Each NOON VR headset comes with access to the KOOM app, which houses more than 1,000 pieces of immersive content, including 360-degree environments, stereoscopic 3D videos, and many other interactive experiences. Through the KOOM platform, user-generated videos can be uploaded and shared in full 3D virtual reality.
The NOON VR headset is the vision of NextCore CEO Jong Hyeon Kang, who felt that the headsets currently on the market were too expensive, too big, and not accessible enough to consumers. With that in mind, Choi created a smartphone-based virtual reality system that offered the greatest potential for widespread use of virtual reality.
NOON VR's headset is compatible with any smartphone that has a screen size of 4.7 inches and larger. Through its free-to-download KOOM VR app, NOON VR immerses consumers in the first-person RPG game or 3D film they are playing or watching, from the comfort of any location.
The NOON VR headset is priced at $89 and will be available on Amazon starting August 3, 2015 . The KOOM VR app is available free for iOS and Android users. For more information, visit http://www.noonvr.com.
About PMBC Group
PMBC Group is a fast-growing public relations agency based in Los Angeles, with offices in Beverly Hills. PMBC is dedicated to delivering tactical, results-driven public relations campaigns that build brand value and advance immediate and long-term business goals. PMBCs success-proven formulas are designed to navigate the modern media landscape utilizing a collaboration of new and traditional media to achieve strategic media exposure to reach key consumer audiences, industry influencers, investors and other constituents that matter to our clients. PMBC is comprised of a team of professionals of varied backgrounds from public relations, journalism, social media, merchandising, product development, venture capital, entertainment and hospitality. For more information please visit http://www.PMBCgroup.com.
About NextCore
NextCore Corporation, a VR startup based in Seoul, Korea, was launched in 2014. As a developer, manufacturer, and distributer of 3D VR headset, connected with various smartphones, NextCore Corp. enables the implementation an optimum 3D VR content, based on the mobile graphic engine and CG software solution. Since its initial development of 3D VR headset in 2012, the company has accumulated the necessary know-how and technology to establish a stable VR manufacturing base, in collaboration with a manufacturer dedicated to 3D glasses and 4D system. NextCore seeks to be a worldwide leader in 3D & 4D virtual reality specialized enterprise, complete with the competitiveness of VR headset and content.
For more information, visit http://www.nextcore.kr or follow them on Twitter @NOON_VR and on Facebook.