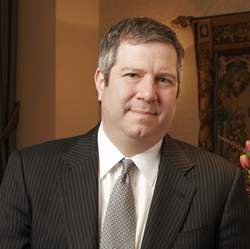 Bala Cynwynd, PA (PRWEB) August 26, 2015
After years of investigations and trials, the FDA recently gave its stamp of approval to Kybella®, an injectable product available for adults looking to change their profile by bringing more definition to their chin and neck. In June, facial cosmetic plastic surgeon Dr. Timothy Greco became one of a small group of board-certified aesthetic surgeons offering the product. Since the treatment is new to the aesthetic world as a whole, it can only be offered by board-certified plastic surgeons and dermatologists. On the East Coast, you may find only one in three practices offering Kybella®, the Philadelphia area's Eastern Cosmetic Surgery Institute now among them.
Dr. Greco chose to add Kybella® to his menu of services because of its simplicity. The medication can be administered via a series of injections in a matter of minutes, after which it begins to break down unwanted fat under the chin (submental area). This is an area where fat can collect, creating the appearance of a double chin — also known as submental fullness.
Kybella® works by physically destroying fat cells. Its active ingredient is deoxycholic acid, which ruptures the cell membranes. With nothing holding it in place, the fat is free to be naturally and safely passed from the body, eliminating it from the area beneath the chin. The mild inflammatory reaction also allows for redraping of the skin, which is an added bonus.
After two to four treatment sessions, each spaced about a month apart, Philadelphia-area patients should notice a significant decrease in the appearance of their submental fullness. Dr. Greco may recommend that some patients receive six Kybella® treatments in order for them to get the results they want.
Patients are already choosing Kybella® to bring more definition to their chin, and one factor that makes it appealing is that it is non-invasive. For many years, submental liposuction was the only option available to patients who wanted to get rid of their double chin. These patients found that despite weight loss efforts, including eating well and maintaining a physically active lifestyle, their submental fat remained. Neck liposuction, as with all forms of liposuction, is a surgical procedure that requires incisions and a recovery period. While this method is certainly effective, it doesn't appeal to everyone. Patients looking for a minimally invasive option are choosing Kybella® because it requires minimal to no downtime, among other benefits.
The results from Kybella® are gradual. Patients will see definition return to their chin over a matter of months, after which they will enjoy a contoured face with an improved profile.
Kybella® is currently only FDA approved for use below the chin, so patients will want to consider other methods of fat removal targeting other areas of the body. Patients with excessive neck skin with loss of elasticity and prominent neck bands should consider a neck lift.
Find out more about Kybella® in the Philadelphia area from facial expert Dr. Timothy Greco. Visit drgrecoface.com to learn about the new prescription cosmetic and other aesthetic options, or call (610) 664-8830 to speak with someone in his practice or set up a consultation.