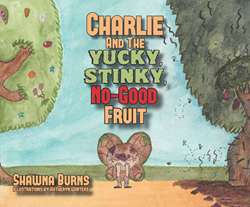 May each of you learn how amazing your gardens are and how simple it is to pull 'weeds' so your garden can reflect the radiant beauty of your heart.
Alpena, AR (PRWEB) September 29, 2015
Burns' second book, 'Charlie and the Yucky, Stinky, No-Good Fruit,' is based on Burns' remarkable technique called "Seed Digging," which teaches children and adults how to overcome personal addictions and mental health issues quickly and permanently by pulling "sad seeds" from their lives when behaviors and emotions get out of control.
The main character, a little Gardenia named Charlie, had a "sad seed" planted in his heart when Frappy taunted him that his garden was ugly. The seed grew into a great big yucky, stinky tree that caused huge problems for Charlie, his garden and for the entire village of Gardenias. Readers will find out if Charlie is able to get that yucky, stinky tree out of his garden, bring back his precious orange trees, and find happiness again. The book also contains follow-up questions for facilitators to ask children after reading the story.
Burns' goal is for children to understand how beautiful and wonderful they truly are, and to bring peace and joy to themselves and others by planting "happy seeds," which grow into beautiful flowers when we believe the truth. She believes we were made exactly like we were supposed to be.
Charlie and the Yucky, Stinky, No-Good Fruit is available in paperback and hardcover formats; contact the author for more information.
Shawna Burns is a Licensed Professional Counselor and a Licensed Alcohol and Drug Abuse Counselor. She has a Masters Degree in Rehabilitation Counseling from the University of Arkansas at Little Rock and has counseled children and adults for the past decade. Prior to becoming a counselor, Shawna taught children in the classroom setting, serving as a special education teacher. She has created the Seed Digging Technique and founded the Seed Digging Wellness Center in Harrison, Arkansas to help children and adults find emotional healing that lasts. Learn more at http://www.seeddigging.com.