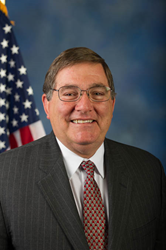 As a physician and founder of the Congressional Health Caucus, Rep. Burgess has a special understanding of the real world impact of health care policy issues
Fairfax, VA (PRWEB) July 31, 2015
The Radiology Business Management Association's 2015 Fall Educational Conference will feature U.S. Rep. Michael Burgess, MD, (R-Tex) presenting "What's Next for Health Care: A View From Capitol Hill" on Sunday, Sept. 27, 2015, in Austin, Tex.
"As a physician and founder of the Congressional Health Caucus, Rep. Burgess has a special understanding of the real world impact of health care policy issues," said Suzanne Taylor, president of the RBMA Board of Directors. "We are pleased that he is able to join us at this year's RBMA Fall Educational Conference and share his insights with our members."
Rep. Burgess has served in Congress since 2003 and was named to Modern Healthcare's "50 Most Influential Physician Executives and Leaders" list in 2013. He is a member of the House Committee on Energy and Commerce, where he serves as chairman of the subcommittee on Commerce, Manufacturing, and Trade. In addition, he sits on the the Energy and Commerce subcommittees for Health and for Oversight and Investigations. His other congressional committee memberships include the Commission on Security and Cooperation in Europe and the House Committee on Rules.
Rep. Burgess is one of only 17 physicians in the 114th Congress. He received his medical doctorate degree from the University of Texas Medical School in Houston, and completed residency programs at Parkland Hospital in Dallas. Before being elected to Congress, Rep. Burgess practiced as an OB/Gyn in Texas for three decades. He also has a master's degree in Medical Management from the University of Texas at Dallas.
In his talk, Rep. Burgess plans to cover what health care issues Congress is likely to tackle next now that the legislative effort to repeal the Medicare sustainable growth rate (SGR) formula is finally over. The formula, which came into effect in 1997, quickly proved unworkable and was subject to more than 17 legislative delays in 11 years before it was repealed once and for all in 2015. Rep. Burgess will share what happened "behind the scenes" in order to finally get the SGR permanent repeal across the finish line. He will also cover what is next for the 114th Congress and the potential impact of upcoming health policy on the practice of medicine in general, and radiology specifically.
"During his time on Capitol Hill, Rep. Burgess has earned a reputation as a problem-solver who seeks sensible solutions," said Liz Quam, RBMA Federal Affairs Committee chair. "He has also proven to be committed to improving Federal health policy. Over his more than a dozen years in Congress, he has worked with the field of radiology on numerous occasions to introduce legislative solutions to health policy problems. Most recently, he helped lead the charge to get H.R. 6, the 21st Century Cures Act, passed by the House of Representatives with provisions to permanently repeal the 25 percent professional component multiple procedure payment reduction on imaging and push the industry to better interoperability."
The RBMA Fall Educational Conference runs from Sept. 27-29, 2015, and features more than 30 leading industry experts speaking on topics specific to the field of radiology business management. An early-bird conference registration discount is available when ordering through the RBMA website at rbma.org/FEC by Sept. 11.
The Radiology Business Management Association is a national not-for-profit association providing members with applied business information and intelligence applicable in any radiology setting. The RBMA has approximately 2,300 members involved in various management capacities in private practices, academic radiology groups, imaging centers and hospitals. The RBMA continues to be recognized as the leader for radiology-specific educational programs, products and services, publications and data. Learn more about the RBMA leadership at rbma.org/About_RBMA.