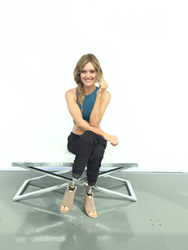 ATLANTA, Ga. (PRWEB) July 31, 2015
Renowned motivational speaker and Paralympian Amy Purdy will give a keynote address at Imaging USA 2016, Professional Photographers of America (PPA) announced today. PPA opened registration for the event earlier this week.
Purdy is known for overcoming the loss of her legs at age 19 to become a Paralympic bronze medalist in snowboarding. Purdy's spirit and attitude led her to become a New York Times best-selling author, model, and even landed her on the screen with roles in independent film and as a contestant on Dancing with the Stars and The Amazing Race. She also found time to co-found Adaptive Action Sports, a nonprofit organization which helps those with permanent disabilities to get involved in action sports and will release a clothing line in spring 2016.
Purdy will add another accolade to her list of accomplishments when she gives an inspirational keynote presentation Sunday morning at Imaging USA. No other programs will conflict with Purdy's address, allowing all convention-goers the chance to attend.
Imaging USA 2016 will be held January 10 to 12 at the Georgia World Congress Center in Atlanta, Georgia. More than 10,000 industry professionals will spend over three days of everything photography from education to inspiration as well as some photographers-only shopping opportunities.
Major components of Imaging USA include a three-day tradeshow, featuring more than 600 booths and the international photographic competition with over 1,000 images on display, as well as several all-inclusive parties, including this year's closing party at the Georgia Aquarium. Photographers can also choose from more than 100 speeches, presentations and hands-on demonstrations by some of the most respected names in the photographic industry.
Imaging USA started in 1880 and has become an anchor in the photography field with its renowned educational classes geared to improve a photographer's business skills, photographic repertoire and use of technologies, and also as a platform for photography vendors to be more visible and connect with their target audience. The event also features mentoring opportunities, portfolio reviews and much more for photographers to enjoy.
The impact on photographers' businesses each year is such that PPA offers a full-registration to Imaging USA as a perk for new members to experience it for themselves at no cost. Professional Active PPA memberships are available for just $27.92 a month. PPA, a nonprofit, keeps things affordable and provides quality education because it is in the business of helping photographers Be More Profitable, not in taking their money.
Imaging USA has also blocked rooms at several nearby hotels for attendees to take advantage of the reduced pricing, a coup in itself. There is another convention downtown Atlanta at the same time as Imaging USA, which has caused area hotel prices to sky-rocket.
There are many different ways to experience Imaging USA, including but not limited to the full conference, a full conference plus pre-conference courses option, parties only, and tradeshow only.
Visit ImagingUSA.org for complete registration information and pricing options. And keep checking back for updates on speakers, classes and events' schedules.
About PPA:
Professional Photographers of America (PPA) is the largest international nonprofit association created by professional photographers, for professional photographers. Almost as long-lived as photography itself, PPA's roots date back to 1869. It assists more than 28,000 members through protection, education and resources for their continued success. See how PPA helps photographers be more at PPA.com.