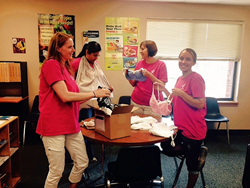 "When I gave her a tank top and bra she said, "Thank you so much! I couldn't afford a nursing bra and never knew about nursing tank tops! You have truly helped me and now I can nurse while I'm in class with him."
Beachwood, OH (PRWEB) August 06, 2015
Loving Moments by Leading Lady will be donating $18,000 in breastfeeding essentials to fifty chapters of Women, Infant and Children (WIC) Offices for the celebration of World Breastfeeding Week that takes place during the first week of August. Through this donation, Loving Moments offered assistance to WIC peer counselors and aides to help less than fortunate women by giving nursing bras and other essentials to better assist them during their journey of motherhood.
"For the last few years, Loving Moments by Leading Lady has been given the greatest gift by partnering with WIC to help spread the word about the benefits breastfeeding has to offer moms and their babies," said Mark Corrado, third generation owner of Leading Lady. "It's hard to hear from many of the WIC offices we have been corresponding with, that they have mothers who don't even own a nursing bra, let alone a normal bra to assist them while breastfeeding. We are here to help, and give these women the resources they need because breastfeeding should be something for all moms and their babies."
World Breastfeeding Week is an annual week-long celebration from August 1-7 designed to raise awareness, promote, and support breastfeeding across the globe. This year's theme "Breastfeeding at Work: Let's Make it Work!" reflects the struggle many women have had to, and still do, face as they persevere their right to be both a working woman and a mother.
The donation of nursing bras and other essentials will be distributed by 50 WIC offices around the country that were selected by sharing their photos and nursing success stories like this one:
"As a WIC peer counselor, I see a lot of mothers that are in need of nursing necessities. One mother was starting college and had planned to take her baby with her. She didn't have the proper attire and was really worried how she could nurse her baby without stripping! So when our clinic received the donation from Leading Lady, I called her to come see me. When I gave her a tank top and bra she said, 'Thank you so much! I couldn't afford a nursing bra and never knew about nursing tank tops! You have truly helped me and now I can nurse while I'm in class with him.'"
--Starla, Breastfeeding Peer Counselor, AR
About Leading Lady
Leading Lady is a premier nursing and full figure intimate apparel company dedicated to creating comfortable, affordable, stylish bras and camis. Leading Lady continuously works to improve products while adhering to core values and business practices. Family owned and operated since 1939; Leading Lady expertly tailors quality lingerie for top brands and retailers across North America. Visit http://www.LeadingLady.com for additional information.
About Loving Moments
Loving Moments by Leading Lady features maternity and nursing apparel for every occasion, from pregnancy through nursing. Loving Moments is the intersection of quality nursing essentials and an exceptional value, and is available only at Wal-Mart® and WalMart.com. Visit http://lovingmomentsbras.com for additional information.