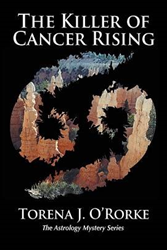 "Some delightfully astute sleuthing runs through this tightly written second case, fully stocked with menacing villains, tireless investigators and romantic intrigue." – Kirkus Review
(PRWEB) August 04, 2015
A ghost and a Mexican shaman play roles in "The Killer of Cancer Rising," the second book in the Zodiac crime series. Author Torena J. O'Rorke bases her stories on her career as a mental health therapist.
"Some delightfully astute sleuthing runs through this tightly written second case, fully stocked with menacing villains, tireless investigators and romantic intrigue." – Kirkus Review
When juvenile probation officer Christian Vargas attends the funeral of a friend's mother, in the coffin she discovers her murdered teen client. She is determined to solve both murders with her hard-nosed partner, Daniel. From a Mormon stake house in Washington State, to a terrifying polygamist compound in southern Utah, the two officers go undercover to find the killer called Cancer. They face deadly hurdles and an explosive love affair that threatens to destroy their working relationship as "partners in the field."
"This thriller will keep readers on the edge of their seats. We are thrilled to announce its release." – Robert Fletcher, CEO of Strategic Book Publishing and Rights Agency
About the Author: Torena J. O'Rorke was a mental health therapist for 30 years, seven of those years working in the juvenile courts. This book is based on her work as a juvenile probation officer. "My stories are based on my cases there." She is also an educator, life coach, and novelist of four prior novels. She lives in the Tri-Cities area of Washington State.
THE KILLER OF CANCER RISING (ISBN: 978-1-62857-127-1) is now available for $14.50 and can be ordered through the publisher's website:
http://sbprabooks.com/TorenaJORorke or at Amazon.com or Barnesandnoble.com.
WHOLESALERS: This book is distributed by Ingram Books and other wholesale distributors. Contact your representative with the ISBN for purchase. Wholesale purchase for retailers, universities, libraries, and other organizations is also available through the publisher; please email bookorder@sbpra.net.