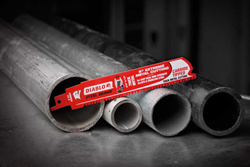 These blades are truly changing the game of metal cutting.
High Point, NC (PRWEB) July 31, 2015
The First Carbide-Tipped Metal Cutting Recip Blade Provides 20x Cutting Life Versus Bi-Metal Recip Blades
Diablo Tools, a premier manufacturer of superior cutting tools and abrasives for the construction professionals and remodelers, announces "The Game Changer" campaign as their industry-first carbide-tipped reciprocating blades for metal cutting. Whether you're cutting mild steels or extreme metal alloys, these blades slice through the material, saving the professional time, money and effort.
"These blades are truly changing the game of metal cutting," says Russell Kohl, President & CEO of Freud America/Diablo. "The Game Changer blade is radical improvement in cutting all metals as well as expanding new applications that other reciprocating blades have not been able to cut before, such as cast iron, stainless steel, and high strength alloys. These blades are extremely versatile, providing premium performance for construction professionals, remodelers, electricians, plumbers, and even first responders for vehicle extrication."
Diablo originally launched this blade in early 2015, and the overwhelmingly positive feedback from tradesmen and remodelers dubbed this blade the "game changer" for their profession. To tell that story, Diablo recently launched a microsite, http://www.thegamechanger.com, for tradesmen to share their thoughts of the blade.
"For years users have struggled with poor performing bi-metal blades, meaning they must purchase and use more blades to complete the job," says Russell Kohl. "The radical 20 times better performance that our carbide-tipped Steel Demon blades delivers saves professionals from wasting dollars on countless standard bi-metal blades that aren't up to the task."
"The Game Changer" reciprocating blades include the below features:

HIGH PERFORMANCE CARBIDE for greater durability and cutting performance in thick metal, cast iron, stainless steel, and high strength alloys
ENHANCED CARBIDE TIP TO BLADE CONNECTION for extreme impact resistance
1 IN. OVERSIZED BLADE BODY for straighter cuts with less vibration
PERMA-SHIELD® NON-STICK COATING for less heat and friction
These blades are now available in four lengths, which includes a new 12" version:
4" (Item# DS0408CF), 6" (Item# DS0608CF), 9" (Item# DS0908CF) & 12" (DS1208CF).
The Game Changer – Cuts Time, Cuts Cost, and Cuts Effort!
Find out more at http://www.thegamechanger.com.
#DiabloGameChanger
About Diablo
Diablo is the premium brand of contractor tools specifically designed to provide superior performance while withstanding the most extreme conditions for the contractor. Diablo is produced by Freud America, Inc., a manufacturer of high quality woodworking tools for the last 50 years and a leader in the carbide cutting tool industry. Freud is the only manufacturer of woodworking tools in the world that produces its own MicroGrain carbide with titanium, called TiCo™ hi-density carbide. By producing their own carbide, Freud and Diablo have the unique ability to formulate each tool for each specific application, thereby maximizing the cutting life and performance of the tool while saving the contractor time and money. Diablo´s full line of high-quality cutting tools includes saw blades, reciprocating saw blades, hole saws, forstner bits, as well as bonded and coated abrasives.
For more information, visit http://www.thegamechanger.com or email our media contact at pr@diablotools.com.
Let's connect!
Find us on social media at:
Twitter: https://twitter.com/DiabloTools
Facebook: http://www.facebook.com/diablotools
YouTube: http://www.youtube.com/diablotools
Instagram: https://instagram.com/diablo_tools/