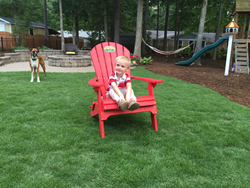 Super-Sod's employee consensus is that Leisure Time(TM) zoysia grass is the prettiest lawn they've ever seen.
New York, New York (PRWEB) July 31, 2015
When the weather turned hot and warm-season turfgrasses, such as zoysia grass, started to strut their stuff, Super-Sod debuted their new type of sod called Leisure Time(TM) zoysia. It's nicknamed LTZ(TM) for short. Incidentally, both names are trademarked with registered trademark application in process.
To commemorate introduction of this new type of sod, Super-Sod is giving away red Adirondack chairs with the Leisure Time logo. The offer is good in Georgia, North Carolina, and South Carolina while supplies last and on purchases of 7 pallets (3,528 sq. ft.) or more of LTZ sod.
The sod company has developed a Facebook app for the LTZ Commemorative Adirondack Chair Promo wherein interested parties can request a LTZ sod quote and socially share the chair promo with their friends and family
Super-Sod employees have been excited about Leisure Time Zoysia grass for 2.5 years since they themselves received their first preview. Some employees have already converted their lawns into LTZ lawns. Their consensus is that Leisure Time zoysia is the prettiest lawn they've ever seen. The prettiest reasons are all in the blade: it's dark green, medium-fine textured, and incredibly lush and dense once it's established. Other assets include heat and cold tolerances, sun loving nature with good shade tolerance, ease of mowing, and quick recovery from damage.
All Super-Sod stores have demo plots of their different turf types, including Leisure Time zoysia grass, that customers can visit to compare and discuss the turfgrass options available. The plots are open to the public and easily accessible.
Super-Sod is a family-run business that employs experts in turf and horticulture. One of their most popular products has been their Soil3 organic compost, delivered in a cubic yard BigYellowBag, which they make partially from composted grass clippings from their turfgrass production. Soil3 is recommended for amending all soils from vegetable gardens to lawns. The sod company continues to develop new garden products (for instance, Leisure Time(TM) zoysia grass), foster gardening and landscaping, and always seeks to improve their farming practices, technology, environmental stewardship, and employee knowledge.
Visit supersod.com to learn more about the company and to sign up for their Monthly Lawn Tips eNewsletter. From the website customers can submit quote requests without having to pick up the phone.