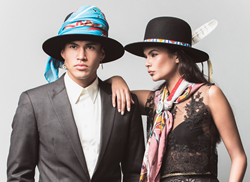 This year's Haute Couture fashion show seeks to give the designers the international recognition they deserve through the platform of SWAIA and Santa Fe Indian Market.
Santa Fe, New Mexico (PRWEB) July 30, 2015
On Saturday, August 22nd the second annual Indian Market Native Haute Couture Fashion Show will be held at 1 p.m. in Cathedral Park downtown Santa Fe. The show, curated and produced by Santa Fe-based art historian and curator Amber-Dawn Bear Robe, showcases contemporary designers: Jamie Okuma, Sho Sho Esquiro, Bethany Yellowtail and Dorothy Grant.
"Last year was the inaugural year of the Contemporary Fashion Show," says Bear Robe. "It was really Chief Operating Officer, Dallin Maybee's vision. Dallin invited me to participate because he wanted to include contemporary Native fashion at Indian Market, push the boundaries, and give designer's license to explore their creativity."
Jamie Okuma (Luiseño/Shoshone-Bannock) has been making clothes since she was a child and holds the honor of being the youngest SWAIA artist ever awarded 'Best of Show'. Okuma is creating a wearable installation piece that presents a traditional plateau-inspired dress beside its contemporary counterpart for this year's runway.
Innovative fashion designer Dorothy Grant (Haida) who has produced pop-up fashion shows at Indian Market for years will participate in this year's fashion show. Grant is internationally renowned and has over thirty years of experience in the fashion world.
Fashion Designer Bethany Yellowtail (Crow/Northern Cheyenne) will exhibit looks from her "Mighty Few" collection that honors "the supreme feminine."
Finally, designer Sho Sho Esquiro (Kaska Dene/Cree), a 'Best of Show' winner at Indian Market's 2013 Native American Clothing Contest, will round out the lineup.
"The Contemporary Fashion Show is really a show of art, design and fashion," says producer Amber-Dawn Bear Robe. "This year's Haute Couture fashion show seeks to give the designers the international recognition they deserve through the platform of SWAIA and Santa Fe Indian Market. "
DJ Celeste Worl (Tlingit) will mix the live soundtrack at Saturday's outdoor fashion show.
For media inquiries, contact:
Audrey Nadia Rubinstein
505 490 1837
Audrey(@)jlhmedia(.)com
###
About SWAIA:
Founded in 1921, SWAIA is an advocate for Native American arts and cultures, and creates economic and cultural opportunities for Native American artists by producing and promoting the Santa Fe Indian Market as the finest Indian art event in the world; cultivating excellence and innovation across traditional and non-traditional art forms; and developing programs and events that support, promote, and honor Native artists year-round. swaia.org
###
About Amber-Dawn Bear Robe:
Amber-Dawn Bear Robe (Blackfoot/Siksika) is an art curator and art historian, currently teaching art history at the Institute of American Indian Arts. She produced SWAIA's first official fashion show in August 2014 and is organizing the fashion show for the 2015 Indian Market. Bear Robe has worked for organizations such as the Tweed Museum of Art, the Museum of Contemporary Native Arts, the Museum of Indian Arts and Culture and the Santa Fe Independent Film festival. Before moving to Santa Fe, she was the Director/Curator of Urban Shaman: Contemporary Aboriginal Art, the largest Aboriginal artist-run center in Canada. Bear Robe has a Masters degree in Art History from the University of Arizona and an additional Graduate degree in Native American Studies.
###
About the designers:
Jamie Okuma (Luiseño/Shoshone-Bannock) began bead working as a child creating her own dance regalia for powwows near her home, on the La Jolla Luiseño Reservation. At the age of 22, Okuma became the youngest artist in the history of Santa Fe Indian market to win Best of Show, which would become the first of her five Best of Show awards: three from SWAIA and two from the Heard Museum Indian Fair and Market.
Sho Sho Esquiro (Kaska Dene/Cree) is an award-winning artist who is inspired by her Native North American roots and respect for nature, which is derivative of her upbringing in Yukon, Canada. Esquiro uses organic fabrics, as well as recycled leathers, furs, and trims, in vibrant colors. Resulting in melding her passion for hip-hop culture with her aboriginal heritage to create a unique, fresh look with an urban-Native twist. Each garment is handmade to ensure couture quality and artistic authenticity.
B.Yellowtail Designs (Crow/Northern Cheyenne) embraces the experience of breathing new life into ancestral knowledge with modern-day experience, and seeks to redefine Native-inspired design. Yellowtail has contributed to major brands such as BCBGMAXAZRIA GROUP, Kardashian Collections, as well as private labels sold in Macy's and Nordstrom. The B.Yellowtail vision is founded on creating visually stunning clothes that impart artistic passion and self-empowerment. The brand's aesthetic draws on inspiration from the sacred and re-imagines it for the contemporary woman through bold style statements.
Dorothy Grant (Haida) has been an internationally renowned contemporary fashion designer for over thirty-two years. In 1988, Grant became the first designer to merge Haida art and fashion utilizing her formal training at the Helen Lefeaux School of Fashion Design. Grant believes that her clothing embodies the Haida philosophy Yaangudang meaning "self respect." The driving force behind her clothing designs is "empowerment, pride and feeling good about oneself." After seventeen years in retail and manufacturing, Grant has transformed her entrepreneurial focus to Native art market trade shows and online sales through her website.