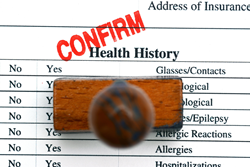 The changes in the Q-Suite agent screens make it easier for call centers to collect data easily and accurately
Fredericton, NB (PRWEB) July 31, 2015
Indosoft, Inc., is pleased to announce a major update to its agent interface and script builder in Q-Suite 5.9. Q-Suite is their flagship contact center ACD system for Asterisk-based call centers. The new features make it easier to ensure that the agent script display logic shows the script components to the agent only when wanted, and allows for validation of data as the agent enters it. This reduces time and effort during script setup and while on the phone.
Q-Suite agent script component conditions have long been used by clients to hide or show parts of the agent script depending on data collected during the call. This is an effective way to both qualify leads and direct them to the correct options. Indosoft has enhanced the power of script conditions in Q-Suite 5.9 by adding "value is in" and "value is not in" conditions, which allow the specification of lists of values to check against. This makes certain types of logic easier to put on a component, eliminating the complexity of adding a condition for each value. This combines well with the logic that groups multiple conditions together on a component.
Another change to the agent screen is the ability to remove the built-in call disposition component, and place all the potential call dispositions in the agent script. This makes it even easier to control the agent's interaction through conditions, and only present the dispositions that make sense in the context of the given call.
Q-Suite 5.9 also introduces field validation. This allows call center managers to specify valid entries for fields on the agent script. Upon entering a value in the script, the field is checked against the pre-defined field definition and flag the entry if it does not match. The agent is immediately prompted to correct the value. This makes sure that the agent can fix any data issues in the call, rather than waiting for a follow up. The field definitions are specified in a widely used regular expression syntax.
"The changes in the Q-Suite agent screens make it easier for call centers to collect data easily and accurately" said Indosoft CEO, Gabe Bourque. "Q-Suite 5.9 represents a major improvement in our agent interface, and in the ease of use for contact center administrators."
About Indosoft Inc.:
Indosoft Inc. is a global provider of call center solutions based on Q-Suite, its flagship multi-channel contact center suite. Q-Suite is a powerful call center software with installations around the world. It is also available to Indosoft technology partners for offering private label managed services using Asterisk. Indosoft licenses Q-Suite ACD with .NET, Socket and web services libraries for use in Asterisk based custom ACD applications.