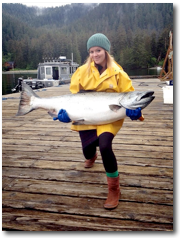 Ketchikan, Alaska (PRWEB) July 31, 2015
Dan Sobek of Southern California has bragging rights for catching the largest king salmon of the 2015 Steamboat Bay Fishing Club season so far: an impressive 56.8 pound king salmon. Caught on the Club's opening day, June 18, this trophy-size Chinook (shown held by resident manager Brandi Cornelius) signifies that there are plenty of fish in the sea this season. As salmon typically grow over the summer while they feed in coastal saltwater before swimming upstream, a catch this large and this early implies that big fish will be abundant at Southeast Alaska's legendary fishing spots all season long, now through mid-August.
Combine these signs of plentiful salmon fishing with the Club's recent accommodation addition, and this season is set to be one for the record books. Completed February 2015, The Residence at Steamboat Bay joins The Lodge at Steamboat Bay, inviting an additional eight guests (increasing the total guest count to 24) to indulge in luxury amenities. The 2015 season (mid-June to mid-August) also brings to the Club a new fishing fleet of custom-built 27' heated cabin cruisers each equipped with a livewell for storing guests' catch and dual outboard engines. The new fleet provides guests with an upgraded boating experience; including more deck space, an onboard head, microwave oven for hot lunches and satellite radio.
Opened in 2013, Steamboat Bay Fishing Club hosts novice and experienced anglers alike to enjoy the region's best guided saltwater Alaskan sport fishing, while exhilarating in spectacular coastlines and wildlife including Bald Eagles, orcas, humpback whales, black bears, and more. This premier location is just minutes from the best fishing spots for trophy-size wild Alaska king salmon (Chinook), silver salmon (coho), halibut, lingcod, yelloweye rockfish and more than 20 other abundant species.
For more information visit http://www.SteamboatBay.com or call 800-350-3474.
###
About The Waterfall Group
Leaders in adventure hospitality management on land, on the water and in the air, The Waterfall Group delivers extraordinary outdoor lifestyle experiences featuring unique and scenic destinations, marine and aviation expertise, satisfying local cuisine, easy travel and warm, friendly customer service. Founded in 1980, The Waterfall Group markets, operates and supports multiple lines of business nationally from all-inclusive Alaska sport fishing lodges to sea plane tours in the Florida Keys.