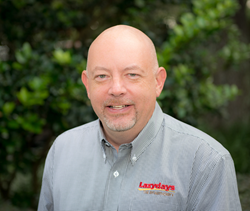 They are always ahead of the game, which is key in a digital world that is constantly changing. Without question, Lazydays is the RV authority and I am looking forward to contributing to its success.
Tampa, Florida (PRWEB) July 31, 2015
Lazydays, the RV Authority and world's largest RV dealership, announced that Marc Carlton has been named digital marketing director. Carlton has been working on the digital end of the automotive industry for over 15 years. He brings valuable insight and understanding of customer buying needs, and he brings a wealth of automotive industry and digital knowledge to the Lazydays team.
Having worked on the customer and business end of the retail automotive industry, Carlton will be responsible for overseeing all of the digital marketing aspects, including search, display, social media, blogs and digital content for Lazydays Marketing efforts pertaining to sales, service, resort, and the parts and accessories store. Carlton will work alongside the Lazydays marketing and internet sales teams to develop and implement comprehensive digital plans to help manage sales, enhance the Lazydays Service Division to maximize the life expectancy of consumer RVs and boost occupancy at its recently expanded 300-site RV Resort, while ensuring Lazydays continues to meet and exceed customer expectations on all fronts.
"Here at Lazydays, we like to build upon our team of skilled professionals to help keep us ahead of the game in this competitive industry," said John Lebbad, chief marketing officer at Lazydays. "Marc will be an excellent addition to our team. He has a strong grasp of the digital marketplace that will help us elevate our organization and connect on a broader level with existing and potential customers."
Prior to joining Lazydays, Carlton was a senior digital marketing manager with Shift Digital, an agency specializing in automotive marketing. In the past, he served as a regional operations manager for FordDirect, was an account manager for the Shamrock Companies and an integrated document solutions consultant for Reynolds & Reynolds. Carlton also worked as a national sales associate at ASK-Keystone for Amsted Industries, a manufacturer of industrial components for railroads, vehicles, construction and buildings.
"I am delighted to join this amazing team that is highly focused on getting results for their customers," said Carlton. "They are always ahead of the game, which is key in a digital world that is constantly changing. Without question, Lazydays is the RV authority and I am looking forward to contributing to its success."
ABOUT LAZYDAYS
Lazydays®, founded in 1976, is the world's largest RV dealership. Based on 126 acres outside Tampa, FL since 1996 and over 30 acres in Tucson, AZ since 2011, Lazydays has the largest selection of RV brands in the nation. Lazydays features nearly 300 service bays, more than 1,400 new and pre-owned RVs, and 2 onsite campgrounds with over 700 RV campsites. Lazydays has built its reputation on providing an outstanding customer experience with exceptional service and product expertise, and as a place to rest and recharge with other RVers. More than a quarter million RVers and their families visit Lazydays every year, making it "their home away from home." Lazydays has been recognized as a "Top 50 RV Dealer" by RV Business and as one of Tampa Bay's "Top Work Places." The Lazydays Employee Foundation, supported by payroll contributions from over 70% of Lazydays' employees, has contributed more than one million dollars to make many historic changes for at-risk children in the Tampa Bay and Tucson communities. For most people, Lazydays isn't just the beginning of their journey; it's very much a part of their ride. To learn more, visit http://www.lazydays.com.
###