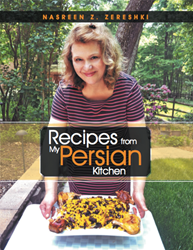 I want to educate Americans, especially American cooks, about the healthy aspects of Persian food among the oldest and best cuisine in the world
Raleigh, NC (PRWEB) August 03, 2015
The art of preparing and cooking food comes naturally to some. For others, they master by experience. Learning from her grandmother's side at a young age, Nasreen Zereshki was extremely eager to cook Persian cuisine. Now that she is skilled in the kitchen, Zereshki has decided to share her cookbook Recipes from My Persian Kitchen with the world.
Since Americans tend to be undereducated about Persian cuisine, Zereshki made it her goal to provide knowledgeable and easy recipes for everyone to comprehend.
"I want to educate Americans, especially American cooks, about the healthy aspects of Persian food among the oldest and best cuisine in the world," Zereshki said.
Not only does Zereshki want to educate about all of the benefits from Persian cuisine, but she also wants to pass down all of the recipes to her extended family.
"I wanted to write this book so I can share with my daughters and grandchildren the recipes themselves, the stories I heard while cooking next to my grandmother, and my culture," Zereshki said.
Recipes from My Persian Kitchen is a must read for any aspiring or veteran cook. Whether you do everything in your personal kitchen or in a restaurant environment, there is something to learn from this Persian cook with over 40 years of experience.
Recipes from My Persian Kitchen
By: Nasreen Zereshki
ISBN: 978-1-4834-2734-8
Available in softcover and ebook
Available on Amazon, Barnes & Noble and LuLu
About the author
Cooking teacher and author, Nasreen Zereshki, is sharing passed down recipes in her very first cookbook. Experienced in preparing Persian cuisine, Zereshki is sharing with readers all the health benefits and beauty that it can provide. Living in Greensboro, N.C., Zereshki enjoys teaching classes and spending time with her daughters and granddaughters.
For review copies or interview requests, contact:
Katie Wenclewicz
317.602.7137
kwenclewicz(at)bohlsengroup(dot)com