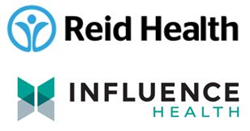 "Patients and providers collaborating in health is a win-win for improved outcomes," states Billie Kester, Director of Continuum of Care, Reid Health.
Birmingham, AL (PRWEB) July 30, 2015
Influence Health today announces that Reid Health is using the Patient Engagement Cloud, including the EMPOWER enterprise patient portal and NAVIGATE population health management solutions, to manage avoidable readmissions and unify their care management and patient engagement initiatives.
Reid Health has implemented the Influence Health technology to help identify and manage rising- and at-risk patients prior to discharge and ensure individualized care plans are in place to reduce readmissions and close possible gaps in care. The hospital is also supplying patients and families with the digital engagement tools, making it easier and more convenient for them to be active participants in their health.
"Reid Health is committed to empowering community wellness through education and prevention," states Billie Kester, Director of Continuum of Care, Reid Health. "Using Influence Health's population health solution and enterprise patient portal, not only are our care teams equipped with technology to more efficiently and effectively manage care, our patients are simultaneously equipped to interact with their providers, further their knowledge and take charge of their health online." Kester continues, "Patients and providers collaborating in health is a win-win for improved outcomes."
"Influence Health is excited to partner with Reid Health as they accelerate their strategic patient engagement and population health management initiatives," states Bradley D. Case, CMPE, SVP/GM Clinical Solutions, Influence Health. "With the Patient Engagement Cloud, they are able to help individuals' live longer, healthier lives. We look forward to our continued partnership with them to ensure the success of their value-based programs and engagement efforts".
About Reid Health
Reid Health is a regional health system equipped with the latest technology and sophisticated healthcare services. The system includes a 207-bed hospital, a growing physician network and numerous satellite offices. Reid Health serves over 260,000 residents in 7 counties, with an extended service area of 10 counties and over 1 million residents in east central Indiana and Ohio. For more information, visit http://www.reidhealth.org.
About Influence Health
Influence Health provides the healthcare industry's only integrated digital marketing and patient engagement platform. The Influence Health platform enables providers, employers, and payers to positively influence consumer decision making, and health-behaviors well beyond the physical care setting through personalized and interactive multi-channel engagement enabling population health management. Since 1996, the Birmingham, AL-based company has helped more than 1,100 provider organizations influence consumers in a way that is transformative to financial and quality outcomes. For more information please visit influencehealth.com.