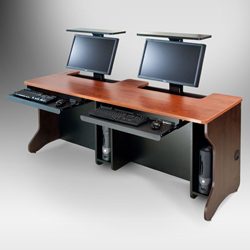 Silent, responsive control.
Baltimore, MD (PRWEB) July 31, 2015
SMARTdesks announces today the flipIT Lift Series of motorless monitor lift desks is ready to specify and make to order for multi-use workspaces world-wide. The contemporary modern computer furniture design features long-lasting high pressure laminates tops, semi-rigid PVC edge banding that is contoured around its handsome shape. A removable wire management panel permits access to cables that pass through side panels via 80mm grommets and into the CPU bays and monitor. The snap-in panel completely hides cable clutter.
The flipITlift has been fully engineered into SMARTdesks collaborative classroom desk concept for use with VESA compliant (wall mountable) monitors up to 24" (23" maximum case width). Truly multi-use: people can choose to use computer and text media together, or separately. The computer can be instantly put away and brought out again as the focus of the group, or individuals change. Flexibility is tantamount to success.
The flipIT Lift Motorless Lift gives silent, responsive control. No motors to fail and require electricity throughout the space. No whirring for a minute to upset the pace of communication. Also, no counterweights or spring adjustments are required. Two models accommodate monitor weight ranges: 5-15 and 15-24 pounds. Screen tilt adjustment adds viewing comfort. Eleven mounting positions are available to select screen height.
The SMARTdesks design incorporates an accessible wire management space with wire grommet pass-throughs from side to side for ease in floor plan layout and clutter-free connectivity.
SMARTdesks designs and manufactures innovative, custom computer conference tables and computer classroom furniture. Each product is made to order, nuanced for the technology, purpose and interior design choices for the space. SMARTdesks is the patent holder for flipIT® products and is the sole source for flipIT and factory integrated flipIT furniture products. Serving universities, corporations, government and military clients world-wide, SMARTdesks furniture is made in the USA using Certified GREEN manufacturing methods. For more information, contact smartdesks through the web site— http://www.smartdesks.com