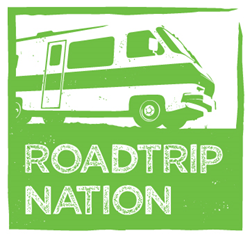 Roadtrip Nation opted to focus on computer science due to the pressing need facing students in the United States for greater access to technology education.
Costa Mesa, California (PRWEB) July 31, 2015
Career exploration organization Roadtrip Nation and Microsoft YouthSpark are sending three young people on a month-long journey across the nation. The trip will be chronicled in Code Trip, a reality show airing on PBS next year. Each student, selected for their interest in computer science as well as their unique background, will interview leaders in the field and gain the exposure and insights into a variety of career paths incorporating technology.
The filming of Code Trip takes off on July 29 from Roadtrip Nation's headquarters in Costa Mesa, California. Stopping in cities such as San Francisco and New York, road-trippers will speak to a wide range of leaders from companies such as Netflix, Microsoft, and more.
Roadtrip Nation opted to focus on computer science due to the pressing need facing students in the United States for greater access to technology education. Computer science is the driving force behind developments and discoveries in business, medicine, creativity, and community building. Yet in school, few young people have exposure to the field—particularly young girls, minority youth, and youth from low-income and rural communities. According to the 2014 Taulbee Survey done by the Computing Research Association, of all computer science degrees awarded during the 2013-2014 school year, only 14.7 percent were awarded to women, 7.7 percent to Hispanics and 4.1 percent to African-Americans.
YouthSpark, a global initiative from Microsoft to empower young people through computer science education, brought industry knowledge and resources to source mentors and learning opportunities for the students throughout their trip.
"Roadtrip Nation is proud to partner with Microsoft's YouthSpark initiative not only to inform others of the many career routes one can take with a computer science background, but also to engage in the much-needed conversation of diversifying the tech field with more pluralistic perspectives," said Mike Marriner, Cofounder of Roadtrip Nation.
"Through Roadtrip Nation, these three young people will get exposure to some of the greatest minds in tech and will showcase the potential anyone has to become an innovator and driver of growth and opportunity in their community by learning not only how to use technology, but also how to create technology," said Yvonne Thomas, director of the YouthSpark initiative at Microsoft Corp. "We are excited for the road-trippers to see the unique career opportunities computer science offers."
The resulting series that captures the road-trippers' experiences is slated to air in fall 2016 on public television stations across the country, and marks Roadtrip Nation's thirteenth season. Code Trip is sponsored by Microsoft YouthSpark. To stay up to date on the journey, view the initiative page at http://roadtripnation.com/engage/code-trip and follow @RoadtripNation, @MSYouthSpark, and the hashtag #CodeTrip on Twitter.
Meet the Students
Robin Maxkii can make a lot out of very little. Her resourceful nature derives from her upbringing in a small Native American tribe. Access to technology was limited, but she always found a way to wheedle the system, like when she overrode the time restraints on public computers in the 4th grade. Later, she built her own computer when she couldn't afford one. Now Robin enjoys coding and blogging about Native American culture. Pursuing a tech career has been challenging, with many peers viewing her as an outsider, but she expects this trip will show the world, and herself, that the face of computer science is far more eclectic than most realize.
Maintaining the image of a tough-edged exterior has proven difficult for Zoed Mora. He is interested in the field of computer science but fears he won't fit in due to the "geeky" persona often associated with the career. Many have assumed that he couldn't possibly be interested in such a pursuit since he does not fit the prescribed mold often portrayed in the media. Nonetheless, Zoed has chosen to ignore the social pressures and has made many sacrifices to put himself through school. He anticipates the trip will provide him with the confidence to look past stereotypes and looks forward to meeting like-minded individuals who have trekked their own successful paths in the vast field of tech.
Natalie Melo entered college as a chemical engineering major—but all it took was one brush with coding in a computer science class and she was hooked. Realizing it was the perfect outlet for her natural problem-solving skills, she quickly changed majors. She's now on track to becoming a computer scientist—but not without hesitations. As a Latina entering a competitive, male-dominated field, she wonders whether she has what it takes to survive the world of tech. Her dream is to honor her parents, who immigrated to the States and cleaned houses just to give her a better life, but she lacks role models she can relate to. Natalie hopes this road trip will introduce her to females who've been in her shoes so she can forge ahead toward her goals.
# # #
About Roadtrip Nation
Roadtrip Nation, renowned for its New York Times best-selling career guide, award-winning documentary television series, and acclaimed classroom curriculum, is a career exploration organization that creates content, products, and experiences to help individuals pursue fulfilling careers. Combining self-reflection with real-world exposure, Roadtrip Nation's tools enable youth to connect their interests to relevant life pathways and stay engaged with their futures.
For more information, visit roadtripnation.com and roadtripnation.org.
About Microsoft YouthSpark
Microsoft YouthSpark is a global initiative by Microsoft Corp. that seeks to create opportunities for all young people to learn digital skills and computer science, empowering them to achieve more for themselves, their families and their communities.
For more information, visit youthspark.com.
Media Contacts:
Loureen Ayyoub, Roadtrip Nation
Phone: (714) 280-2153
loureen(at)roadtripnation(dot)com
Leonardo Ortiz-Villacorta, Microsoft Corp.
Phone: (425) 538-6680
lortiz(at)microsoft(dot)com