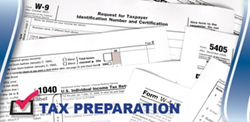 Las Vegas, NV (PRWEB) July 31, 2015
An income tax preparation and accounting company, IQTAXX is located in Las Vegas, Nevada. Its experienced representatives announce that iQTAXX is now available throughout the entire year to assist clients with any tax-related questions or concerns, unlike most tax preparation companies who are only open in tax season. The company website is filled with informative articles, providing a valuable resource for anyone who is interested in learning more about tax codes and policies.
The representatives at IQTAXX recommend that people attempt to keep up with changes in tax law during the year to avoid surprises when they file their taxes. "It is advisable to stay on top of your responsibilities as a taxpayer. Not only can it save you money in the long run but it can also simplify your tax filing process," stated one employee of the company. "It's important to make sure that the information on your W-4 is current. Keeping track of deductions, credits, and receipts is equally important."
IQTAXX offers year-round support for its clients along with a full satisfaction of guarantee. Its representatives work hard at getting its clients the highest possible refunds, while also showing them how to keep better records for the future.
Taxpayers who are looking for tax-related services are invited to contact one of the knowledgeable representatives of IQTAXX at 702.871.7884 during normal business hours if they have any questions or would like to set up a consultation to discuss their tax situation. Potential clients can also visit the company website (iqtaxx.com) in order to contact IQTAXX by completing the online contact form. Interested taxpayers can also connect with the company on Facebook at https://www.facebook.com/iQTAXX.
About IQTAXX
IQTAXX is a full-service tax preparation and accounting company situated in Las Vegas, Nevada. The company provides services to residents and businesses and working and/or living in the area. IQTAXX currently deals with all tax preparation services, payroll issues, book balancing, and accounting matters. Its website is informative and education-driven. It is readily accessible to anyone wanting to learn more about tax preparation or to find out about more about the company.
Contact
iQTAXX – Tax Services
Las Vegas Tax Professionals
6332 S Rainbow Blvd #100
Las Vegas, NV 89103
702.871.7884
702.933.3127 (Fax)
Iqtaxx.com
###