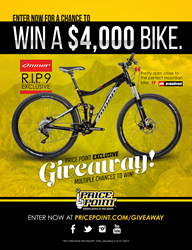 The Niner RIP 9 Exclusive Pro Build is 'pretty darn close to the perfect mountain bike.'
Rancho Dominguez, CA (PRWEB) August 19, 2015
Price Point, America's leading online bike retailer, has announced their biggest bike giveaway of the year. Up for grabs is a mountain bike that Pinkbike called "pretty darn close to the perfect mountain bike": the Niner RIP 9 Exclusive Pro Build. Price Point is offering multiple chances to win this $4,000 bike. The RIP 9 is an airformed alloy, full suspension frame outfitted with Shimano XT/SLX components that accentuate the exquisite design of this high-end bike.
As a driving force in the cycling industry, Price Point finds a variety of ways to give back to their customers. In the past year alone, Price Point has given away thousands of dollars in merchandise, including items like an Ellsworth Absolute Truth Frame, a SRAM XO Groupset, Rock Shox Totem Solo DH Air forks and several Titan work stands, to name a few. Director of Marketing Rebecca Pisicoli stated, "Price Point is always looking for creative ways to give back to loyal customers. Bike and product giveaways, private sale events and special subscriber-only sales are just a few of the ways Price Point reaches out."
There are several ways to enter to win this Niner RIP 9 Exclusive Pro Build, including "Sign-Up to Win," which simply requires the entry of a name and valid email address, and "Review to Win," where the customer reviews a product from the Price Point website to enter. Each review counts as an additional entry with the latter method, allowing the customer more opportunities to win. To enter or for more information and contest rules, visit http://www.pricepoint.com/giveaway. Keep an eye on the Price Point website for more ways to win and new giveaways every month, or simply sign up to Price Point's email at http://www.pricepoint.com and don't miss out on an opportunity to win.