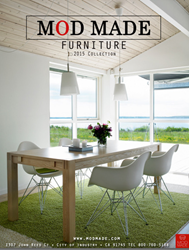 This is an exciting opportunity, we are all anticipating the newly designed products to come in"
(PRWEB) July 31, 2015
Ezmod website is already featuring several new products. The newest addition is suitable for any space in home or business needs. Loop Chair is light, practical and comfortable with all plastic construction. The back of the chair creates a curvaceous crisscrossing lines of three different backs which merge into the edge of the seat. Sold as set of 2 and available in black, white or yellow. Another new product now available online is the Luna Plywood Coffee Table. Perfectly sized and versatile for both traditional and modern spaces. The table's round, slightly concave top and gently curved legs are shaped by thin wood layers under heat and pressure curve beautifully outwards for an organic look. This contemporary item looks as elegant alone as it does styled with coffee table books and accessories.
Ezmod welcomes Mod Made furniture as their newest vendor that aspires to provide products with the highest quality and large eclectic variety of contemporary and modern furniture at competitive prices. Mod Made expects to release a new product catalog by the end of this summer showcasing new products from stools, dining chairs, lounge chairs, sofas, accent chairs and many more. Gloria Ortega, customer service manager at Ezmod said, "This is an exciting opportunity, we are all anticipating the newly designed products to come in."
As always, Ezmod Furniture strives to take care of its customers offering everyday free shipping and no sales tax (except in California). Customers are encouraged to check the website for On Sale, which feature popular items at a discounted weekly price. There are also two saving codes available for orders that total over $600. Customers enter code: EZSAVE50 at checkout to save $50 on orders over $600 or EZSAVE100 to save $100 on orders over $1000.
All of the featured items in this article are available to view here for more information and pricing. Ezmod furniture is an online modern furniture retailer located in Baldwin Park, California. If you need further assistance please call Aulona Gojani, Sales & Marketing Associate at 866-630-6161 ext. 113