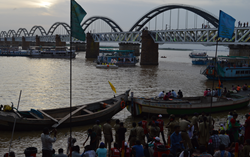 India Network Foundation volunteers touched thousands of pilgrims with supply of hot meals after holy dip in Godavari River
Orlando, FL (PRWEB) July 31, 2015
India Network Foundation sponsors visitor health insurance program for all non-US citizens visiting the United States for temporary work, study or family visit for the past 25 years. As India Network offers coverage for all age groups, many elderly parents in their 80s and 90s are able to travel and spend time with their children and grand children. India Network specializes in covering pre-existing conditions when purchased before arrival in the United States or after arrival subject to approval case by case.
India Network Foundation lost a few policy holders in the last three months that have passed away for variety of reasons while visiting their children and grand children. India Network Visitor Health Insurance Program insures visitors up to age 99 years old covering both pre-existing conditions and new problems. It is highly recommended that members contact the India Network Health Insurance Assistance Services when an insured policy holder is involved in an accident or dies due to an illness to help them with a variety of services. In honor of those members, Dr. KV Rao donated funds and organized annadhanam during recently concluded Godvari Mahapushkaralu held on the river banks of Godavari in Rajahmundry and several other locations. Many NGOs actively participated and offered high quality prasadams to devotees visiting the ghats of Godavari River.
Dr. KV Rao, President of India Network Foundation said that it gives him immense satisfaction that the funds provided to the food grains distribution project were well spent. The project touched thousands of pilgrims who came to Godavari river basin to take holy dip from around the country. India Network visitor health insurance helping thousands of families every year with parents visits but unfortunately due to old age, some visitors could not recover in spite of best medical facilities in the United States. India Network Foundation dedicates this Annadhanam project as a tribute to all those members who bravely traveled to the United States with all their medical problems and age.
About India Network Foundation
India Network Foundation, established as a US non-profit organization, has been helping the Asian Indian community in North America with programs and grants to academics from India for more than two decades. India Network Foundation sponsors visitor health insurance to tourists, students, temporary workers (H1 visa holders) and their families. All insurance products are administered by India Network Services.
About India Network Health Insurance
India Network Services is a US based company that administers visitor health insurance to visiting parents, transient residents, tourists, students, temporary workers and their families. Cashless Visitor health insurance plans are offered for all age groups with network based comprehensive coverage and with pre-existing condition coverage
.
For more information, visit http://www.kvrao.org.