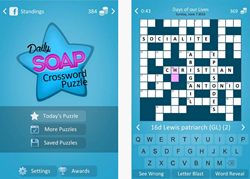 (PRWEB) July 31, 2015
Soap opera followers can't get enough of their favorite characters. Now these loyal fans can extend their daily soap time and test their knowledge of their favorite soaps, too. How? With the first and only daily crossword puzzle featuring only soap opera-related clues. Countless soap opera fans have already made the Daily Soap Crossword Puzzle App a daily habit (just like their daily habit of watching their favorite soaps). Download the free app here. https://soapshows.com/soap-opera-crossword-puzzle-app
Each new daily puzzle is themed to a specific soap, including a rotation of The Young and the Restless, Days of Our Lives, General Hospital, Bold and The Beautiful and even some oldies but goodies.
Players who don't follow certain shows can skip the daily download and choose from an extensive library of other crossword puzzles. For example, if the day's puzzle is about General Hospital but a player doesn't follow GH but does follow The Young and the Restless, they can download a Y&R puzzle instead.
Over 500 soap opera-related crosswords are available through the app and new crossword puzzles are added daily. The crossword of the day is free.
There's also a coin system for extras like playing another puzzle (i.e., not the puzzle of the day) or using "help" functions like "Letter Blast" (we reveal 10 random letters in the puzzle) or "Word Reveal" (we reveal an entire word). Coins can be purchased in packs starting at 200 coins. Players also can earn more coins by completing more puzzles, inviting friends to play and/or connecting the app to their Facebook.
The Soap Crossword Puzzle app is the latest output from award-winning app developers Pink Java. Developer Mustafa Sayid said: "There are millions of soap opera fans out there who've been loyal to their show(s) for years. Our goal is to give them more of what they crave in a way that lets them test their knowledge. We strongly encourage players to invite friends – the puzzles are even more fun when played competitively."
Download the app for free here. https://soapshows.com/soap-opera-crossword-puzzle-app