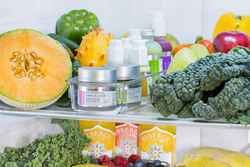 Refrigeration is the key to high performance and effective skin care.
Palm Springs, California (PRWEB) August 06, 2015
The Body Deli, producer of the world's most innovative, fresh, raw and pure skin care products made in the Coachella Valley, keeps skin care alive and refreshing with its refrigerated lines of masques, cremes, and toner. So when the sun and air are hot and dry, The Body Deli's cool, hand-crafted products hydrate, soothe and calm the skin with real results.
"Our philosophy is that refrigeration is the key to effective high-performance skincare," says David Parker, co-founder of The Body Deli. "Refrigeration for most of our products is not required to preserve the product from spoiling; the function is to extend the potency and efficacy of the raw ingredient. In our research we find products that are kept fresh with refrigeration are up to twice as effective over non-refrigerated products."
This "juice bar for your skin" offers a range of products that are hand-crafted in small batches to maximize quality and freshness. With a mission to create the healthiest, non-toxic products that also deliver real results using powerful organic superfoods and raw ingredients, The Body Deli's products transform the skin, hair and complexion.
Refreshed skin care products from The Body Deli's refrigerated cabinet include:

Sea Cucumber Gelee
Cucumber Juice Elixir
Peaches & Cream Masque
Fruit Smoothie Masque
Glacial Mud Masque
French Clay & Algae Masque
Oatmeal & Honey Masque
Sea Plasma Masque
Cool, refrigerated skin care is revolutionary. The Body Deli is modeled after a juice bar and its products are made by hand every day to provide the absolute finest and most beneficial skin, body and hair care products available anywhere. Its Master Cosmetic Chefs lovingly formulate and mix incredible products to the highest standards and painstakingly source essentials oils and ingredients from sustainable farms all over the world.
The Body Deli is uniquely positioned in the marketplace as the world's shifting tastes and habits re-define "luxury" in understated ways. Its products are lovingly hand-crafted in small batches daily in Palm Desert as they have been since the company was founded more than 15 years ago, and are unique and distinctive, delivering real results. The Body Deli's full line of products can only be purchased through its two Palm Desert stores, its website (http://www.thebodydeli.com), or from a curated list of fine spas and retailers worldwide.
Recently, The Body Deli was selected to provide the contents for the in-flight amenity kits for men and women aboard VistaJet, Europe's largest luxury private jet service. The Body Deli's Palm Springs Spa Collection was also gifted by Louis Vuitton to about 500 international guests and media attending the 2016 Cruise Collection presentation at the Bob and Dolores Hope Estate in Palm Springs in May. The Louis Vuitton "discovery" of The Body Deli's Palm Springs Spa Collection made international news in fashion publications around the world.
--#--#--#--