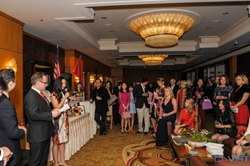 Seattle, WA (PRWEB) July 31, 2015
Representatives of Realogics Sotheby's International Realty (RSIR) have implemented a series of dynamic events, specialty websites, cross-promotions and rewards programs to stoke housing demand and compel consumers to note housing trends. The innovative marketing team creates programs with third party companies that bring targeted consumers together and integrate real estate opportunities through "lifestyle marketing."
"We are not the type of organization that waits around for the phone to ring," says Andrea Savage, Vice President of Marketing for RSIR. "We enjoy numerous win-win partnerships that align demographics and indirectly expose our properties. Our discerning clients much prefer these experiences to brokers sending calendars or cold calling. By participating in these events throughout the year, our clients are more likely to think of us when they do have a real estate need. It's lifestyle marketing."
Savage has produced a myriad of events from simple progressive home tours to dynamic functions, like the 2015 Passport to Luxury Event (in celebration of the Chinese New Year), which drew hundreds of guests and resulted in corporate opportunities and media attention. A review of the past week provides a glimpse into some of the creative marketing platforms that RSIR executives and brokers are implementing:

July 23, 2015 – EO Rendezvous D'Leau: The Entrepreneurs Organization, Sundance Yachts, Alexander Marine and Maison DeLille (of DeLille Cellars) co-sponsored a dynamic waterfront property presentation at RSIR's "Connoisseurs of Life Showroom" in Kirkland before scores of executives embarked upon several luxury yachts to a Hunts Point listing for an unforgettable lakeside reception.
July 28, 2015 – #NoPlaceLikeOwn & Cycle Saloon Tour of South Lake Union: RSIR launched a consumer website and campaign to discuss the buy vs. rent debate, provide mortgage product information and register prospective homebuyers for upcoming real estate tours and symposiums, which included a thrilling 16-person "Cycle Saloon" tour of South Lake Union that garnered local media coverage and market awareness.
July 29, 2015 – Sotheby's Jewels Consignment Event: Carol Elkins, Sotheby's Senior Vice President of Jewelry, received clients by appointment at RSIR's "Connoisseurs of Life Showroom" in Kirkland, which was attended by dozens of guests to explore evaluations of gems and jewelry as well as learn more about collecting, consigning and participating in upcoming auctions.
July 30, 2015 – Ferrari & Maserati of Seattle "Life is in the Journey" Rewards Program: All RSIR clients that close on a home sale above $2 million will be treated to a three-day "ultimate performance experience," as a complimentary luxury sports car will be delivered for their use and consideration.
In addition to events, RSIR launches specialty websites for key listings and market segments such as http://www.RSIRWaterfront.com, and market trends such as http://www.NoPlaceLikeOwn.com and http://www.DragonandthePearls.com. Videos such as "East Meets West" and publications like "The Manhattanization of Seattle" provide editorial coverage on these trends.
Savage is currently attending an exclusive "Marketing Masterminds" conference hosted by Realogy in Madison, New Jersey where a collection of opinion leaders on real estate marketing have assembled from around the world by invitation. Several of RSIR's promotional concepts have been heralded as cutting-edge and provided both accolades and inspiration for the world's largest real estate consortium.
Creative events and promotions have become a hallmark of RSIR, and are part of the reason the company developed its "Connoisseurs of Life Showroom" in downtown Kirkland. The 3,500-sq. ft. retail facility is comprised of an Eastside branch office for the global real estate firm but doubles as an events center, art gallery and even Maison Delille, a wine bar operated by award-winning DeLille Cellars of Woodinville, WA.
"It all stems from supporting our brokers and resourcing good ideas," said Stacy Jones, Owner and Vice President of RSIR. "We're fortunate to have a brand and the team to deliver on these objectives. It's a clear point of differentiation between our firm and our competition. We're less satisfied with the status-quo and prefer to engineer opportunities for our brokers and our clients. Besides, we enjoy the company of our peers and we like to come together."
Jones has more than 25 years of experience in marketing and has helped her firm generate 130 awards for sales and marketing excellence from the National Association of Home Builders (NAHB) and other industry forums over the past decade. Both she and her husband, co-owner of RSIR Dean Jones, were honored with NAHB's "Marketing Director of the Year" in 2006 (regional) and 2003 (national), respectively. The marketing duo may be best known for their efforts in representing successful presale campaigns of large condominium and mixed-use developments that earned the NAHB "Attached Community of the Year" five times nationally.
"We've applied many of the skills we learned on marketing projects to marketing our brokers and their listings," added Jones. "Our experience has helped create a new generation real estate company."
RSIR documents many initiatives on their blog and within featured editorial in their exclusive publication, The Collection Magazine.
For more information visit: rsir.com.
###
About Realogics Sotheby's International Realty - Artfully uniting extraordinary homes with extraordinary lives, Realogics Sotheby's International Realty is a leading global sales and marketing brokerage firm in the Pacific Northwest. Recognized by the Puget Sound Business Journal amongst the fastest-growing private companies in Washington State for 2012, 2013 and 2014, the boutique real estate company of 120+ brokers consistently ranks among the top producing firms within the markets that it serves with branches in downtown Seattle, Bainbridge Island, Kirkland and Issaquah.
EDITORS NOTES: For high-resolution photography contact Andrea Savage at 206.448.5752 or email Andrea.Savage(at)RSIR(dot)com.