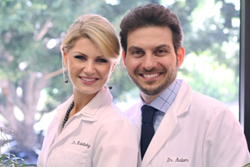 "Patients often have a tooth extracted at an ER that could have otherwise been preserved through experienced periodontal reconstruction services," said Dr. Aalam.
Los Angeles, CA (PRWEB) August 03, 2015
A July 9 article from USA Today has revealed a disturbing trend has emerged among U.S. emergency rooms in recent years, according to the American Dental Association. According to a study by the American Dental Association, from 2000 to 2012, the number of dental emergency visits went from 1.1 million in a single year to 2.2 million a year. Dentists and ADA officials all point to limited dental health insurance as the main cause. Unfortunately, by the time most patients turn to the ER for dental issues, the problem has progressed so far that hospital stays are necessary to protect the patients' lives. One such patient, Christopher Smith, whose story was covered by the USA Today article, suffered such a severe tooth infection that his emergency room visit turned into a lengthy stay at the University of Louisville Hospital intensive care unit with a ventilator and feeding tube. The periodontists at the Center for Advanced Periodontal & Implant Therapy provide insight into these difficult circumstances.
"Patients should not have to put off basic dental care or feel that the emergency room is their only resort once their dental issue has gotten worse," said Dr. Alina Krivitsky of the Center for Advanced Periodontal & Implant Therapy. "Sadly, the cost or lack of health insurance is such a strong deterrent for many that they will put their health at risk rather than go directly to a dentist. Regular care is essential for preventing serious issues, but many insurance plans do not help patients afford the care they need. For example, Medicare does not typically cover dental care."
Reggae singer and security system installer Christopher Smith's story illustrates just how costly - physically, emotionally and financially - delayed dental treatment can be. Having gone several years without a visit to the dentist, when a filling became loose and fell out from one of his molars, he attempted to repair the filling himself. The molar eventually became infected and had to be removed. The infection spread to his throat, where the swelling began to shut off his windpipe. Doctors were able to drain the swelling, but he spent a week in the hospital recovering.
"Emergency physicians can only offer temporary dental care, but by the time a patient finally goes in for help, antibiotics or pain medication won't be enough to tackle a serious infection or break," said Dr. Alexandre-Amir Aalam from the Center for Advanced Periodontal & Implant Therapy. "Patients often have a tooth extracted at an ER that could have otherwise been preserved through experienced periodontal reconstruction services."
The trend in ER dental visits has not gone unnoticed, however. The ADA reported that the number of emergency room visits for dental issues decreased between 2012 and 2014 in the state of Maryland, thanks to reforms that improve the Medicaid insurance reimbursements offered to dentists. The ADA continues to push for increased dental coverage for adults under Medicaid and other government health insurance plans.
Dr. Aalam and Dr. Krivitsky offer restorative and cosmetic treatments to strengthen and preserve their patients' oral health as well as address any cosmetic issues. "We are proud to offer a number of financing options for our patients to ensure that cost or insurance does not get in the way of quality dental care," said Dr. Aalam, "We also gladly work on behalf of our patients to prepare and submit the appropriate paperwork for your dental benefits."
Dr. Alexandre-Amir Aalam and Dr. Alina Krivitsky are board-certified periodontists specializing in dental implants and gum and tissue diseases. They opened The CENTER, a periodontal office focused on providing patients with excellent and skilled care at affordable prices, with the goal of restoring oral health and aesthetic appearance. They are alumni of the prestigious Ostrow School of Dentistry at USC and are still heavily involved in academia and giving back to future periodontists at USC. They are also the only two board-certified periodontists in the Brentwood area of Los Angeles.
For more information on the RejuvaGum Lift™ treatment for gum recession, please call the CENTER For Advanced Periodontal and Implant Therapy at 310-504-1845 and visit ImpantPerioCenter.com.