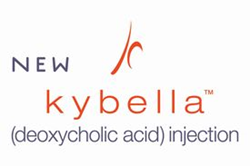 "Kybella should be applied by a dermatologist who is experienced with injectables. The treatment is only for the area under the chin, it won't work for any other body part," explained Dr. Ava
(PRWEB) August 03, 2015
The U.S. Food and Drug Administration (FDA) recently approved a new non-invasive treatment to reduce fat under the chin. Kybella is similar to deoxycholic acid, which occurs naturally in the body and helps absorb and breakdown fat cells. Previously, plastic surgery and liposuction were the main options to treat this area of the body. These are invasive procedures and very expensive for most people. Now with Kybella, there is an easier and non-invasive way to treat double chin fat. Dr. Ava Shamban is a board-certified dermatologist who took part in the FDA clinical trials, which has given her years of experience and insight into the Kybella treatment process.
"Kybella is the first and only approved non-surgical treatment for this condition," said Dr. Ava Shamban. "Most people are concerned about the appearance of their double chin. That is one of the main reasons why I'm eager to provide Kybella in my office. I want my patients to look and feel happy about themselves. Now with Kybella, there is a easier and a non-invasive way to achieve the results they are looking for."
Kybella is injected into the fat tissue under the chin area. Patients receive about 50 injections per treatment, with up to six treatments completed about a month apart. The procedure takes about five minutes for most patients. It takes several days to heal and there are no bandages required after the injections.
"This is a simple procedure that takes very little time out of someone's day," explained Dr. Shamban. "There is minimal discomfort from the injections and the results are amazing. Most patients will be able to perform their daily activities afterwards."
The side effects are minimal. They include soreness, redness, numbness and swelling in the treatment area. Few of the 2,600 patients that participated in the clinical study had these small side affects. Dr. Ava Shamban is an experienced dermatologist that will apply the injections correctly to help prevent any of these from occurring.
"Kybella should be applied by a dermatologist who is experienced with injectables. The treatment is only for the area under the chin, it won't work for any other body part," explained Dr. Ava. "I want people to feel comfortable in their own skin and Kybella is going to help with that."
AvaMD, a Medical and Cosmetic Dermatology practice, was founded by Dr. Ava Shamban to provide a spirited, results-driven approach to skin care, supported by advanced technology and a rigorously trained staff committed to extraordinary service. Dr. Ava Shamban - a renowned board-certified dermatologist licensed to practice medicine in California, New York and Hawaii--graduated magna cum laude from Harvard University before receiving her medical degree from Case Western Reserve Medical School. In addition to serving as Assistant Clinical Professor of Dermatology at the UCLA-Geffen School of Medicine, she is recognized as the "Extreme Makeover" dermatologist and the resident expert on the Emmy winning daytime talk show, "The Doctors." Dr. Shamban is also author of the book, Heal Your Skin: The Breakthrough Plan for Renewal (Wiley). As a key opinion leader in the field, Dr. Shamban has lectured extensively both nationally and internationally on topics ranging from medical and cosmetic to laser dermatology. She is a pioneer in developing the multimodal treatment approach to acne, acne scars, pigmentary problems and rosacea; has served as principal investigator on many clinical trials for both pharmaceuticals and devices that led to FDA approval; and has published extensively in prestigious medical journals. She is frequently featured as a dermatology expert on local, national and international television shows. Dr. Ava is a passionate advocate for natural good looks through scientifically proven treatments and healthy lifestyle changes that restore and heal skin and spirit, at the same time empowering men and women of all ages to live more confident, healthy and happy lives. For more information, please visit: http://www.avamd.com