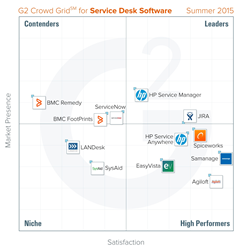 CHICAGO, IL - (PRWEB) July 31, 2015
The first Grid℠ report for service desk software, published today by business software review site G2 Crowd, ranks 12 products to help purchasers in their selections.
HP Service Manager and JIRA Service Desk were named Leaders in the report, receiving strong customer satisfaction scores with a large market presence. Spiceworks Help Desk, HP Service Anywhere, Samanage, EasyVista and Agiloft were named High Performers, earning strong customer satisfaction marks with smaller market presence scores. Samanage earned the highest overall Satisfaction and Market Presence scores.
The Grid℠, created from G2 Crowd's software review platform, factors in customer satisfaction reported by users, along with vendor market presence determined from social and public data to rank products. The Summer 2015 report is based on more than 240 reviews written by business and customer service professionals.
Service desk products are ticketing platforms for IT service management. They serve as a single point of contact (SPOC) within a company so that employees using IT equipment (both hardware and software) can receive help from the IT department or an outsourced equivalent when issues arise. They provide functionality for both incident and service requests, and also often provides tools for asset management, knowledge management, and change management.
Of the more than 40 software vendors listed in G2 Crowd's Service Desk product category, the ranked products each received 10 or more reviews to qualify for inclusion on the Grid℠.
Across all service desk tools, reviewers reported the product they use meets their requirements at an average rate of 86 percent, and on average reviewers said they were 84 percent likely to recommend the product they use. Ease of Doing Business had, on average, the highest satisfaction score at 87 percent. While Ease of Setup had the lowest average satisfaction score, at 78 percent, Samanage and Spiceworks Help Desk had the strongest scores in this category, with 92 and 91 percent satisfaction, respectively.
Some highlights from the service desk software reviews on G2 Crowd:
"HP Service [Manager] is a complete and mature tool, easy to tailor and to fit to any of your [company's] processes. It works perfectly for IT service management and is flexible enough to support our business helpdesks as well. We've been using for many years, with almost no downtime."

Denis Papens, Service Management Tooling at BNP Paribas
"Atlassian's [JIRA Service Desk] has been a great tool for helping us change the way we pull in demand from internal and external stakeholders. It's been an excellent tool and continues to grow. The fact that it integrates with the other Atlassian tools we use has also helped us expand the way we use their toolsets."

Xaviar Steavenson, Director of Software Development at Hostgator
"I lead an IT department of three employees (excluding myself), and we receive multiple requests for help per day. These requests range from printer toner, to program errors, to "slow email"... Without Spiceworks [Help Desk] we struggled to keep track of everything. Now...we are able to track the issues and resolve them effectively. Oh, and it's free!"

Tom Christie, IT and HR Manager at AGM Container Controls
"The migration to [HP Service Anywhere] was the easiest Service Desk tool deployment I've experienced. The use of...data has allowed our Help Desk to rethink how they interact with a staff member as they call in."

Jared Flanders, Systems Monitoring Engineer at America First Credit Union
"We considered a number of products to fulfill our Service Desk Management needs. As a whole most offer an Incident Management system, some form of Asset Management, and the ability to post solutions to your end users. However, none of them came close to [Samanage in] making the product easy to configure and deploy."

Chad Brown, Manager of Client Services (IT) at PRA Group
"[EasyVista] offers [a] full suite of capabilities designed to increase service management capabilities across the ITIL spectrum. [It gives us the] ability to not only see information in a more meaningful way but also...offers the [ability] to proactively take measures to increase our IT effectiveness & response to our key business stakeholders. Most users enjoy the collaboration tools and the ability to track all the details around change management."

Russel Jesski, Director of IT Service Delivery at FCCI Insurance Group
"Agiloft offers a malleable solution to almost all types of business needs...From service desk to contract management and custom BPM, it seems to be possible to implement [in] just about any business need that one can think of. And more importantly, it becomes very easy for an administrator to configure new processes as soon as he learns the nuts and bolts of any single process."

Anil Dsouza, Project Manager at LSG
Satisfaction rankings are generated from the user reviews, and market presence is calculated from vendor size, market share, and social impact. Based on a combination of these scores, each software solution is categorized as a Leader, High Performer, Contender, or Niche.
Premium service desk software research access can be purchased on the site for $599. This offers the original data for filtering and weighting, as well as individual profiles of each platform with the most helpful positive and negative service desk software reviews, detailed company information, user satisfaction ratings, feature scores and customer metrics. Future refreshes of the Grid℠ will provide updated rankings based on the latest reviews and social data.
Be sure to check out the new Grid℠ for the best service desk software and subscribe to the premium research.
_______________
About G2 Crowd, Inc.
G2 Crowd, the world's leading business software review platform, leverages its 37,000-plus user reviews to drive better purchasing decisions. Technology buyers, investors, and analysts use the site to compare and select the best software based on peer reviews and synthesized social data. Co-founded by the founder and former executives from SaaS leader BigMachines and backed by roughly $12 million in capital, G2 Crowd aims to bring authenticity and transparency to business technology research. For more information, go to G2Crowd.com.