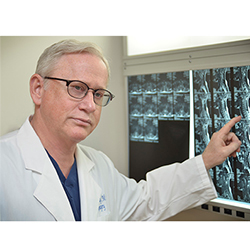 "We have to use keen observation skills for players on the field, and increase our knowledge about the symptoms of a concussion and when it's safe to play." Richard Ostrup, M.D.
La Jolla, California (PRWEB) August 04, 2015
Neurosurgeon Richard Ostrup of Neurosurgical Medical Clinic of La Jolla, http://www.neurosurgeon-sandiego.com, explains that concussions in high school and youth sports are potentially a serious problem. "Only 10 percent of patients with concussions have a loss of consciousness, according to the American Academy of Neurology," said Ostrup. "If students have symptoms including confusion, disorientation, memory loss, or any alteration in consciousness, they could have a concussion and should be withdrawn from the game and evaluated by a health care professional."
Ostrup, who has conducted evaluations for professional athletes for more than 10 years, says the national publicity associated with concussions for professional sports teams has improved awareness but much more needs to be done. "All individuals need to increase their knowledge about the symptoms of a concussion and when it's safe to play and put the players' health above all else."
He recommends that if there is a doubt about the player's status, they should be kept out of the game, adding that "we can all contribute to lowering the staggering national statistics." For example, in 2011 more than 55,000 high school football players and 29,000 soccer players experienced a concussion. The problem is also of concern in other activities such as cheerleading, particularly noted in practice periods, according to the National Conference of State Legislatures.
The "return to play," guidelines stress the education of parents, coaches, teachers, and athletic trainers to provide a protocol for removing athletes suspected of a concussion. They recommend permission from a health professional for these individuals to be returned to play.
According to the California Interscholastic Federation, only 19 percent of high school students nationally have access to an athletic trainer. "Students, parents, athletic coaches or designated individuals want to understand the risks associated with these injuries, such as those that occurred recently in our area," Ostrup explained. "The lack of trainers means that coaches, assistant coaches or other designated individuals must take on the responsibility of tracking and observing players as it relates to this critical issue."
Another vital part of the issue is to continue to track the prevalence and outcomes of these injuries. A San Diego-based company, the Agency for Student Health Research provides a mobile application, "InjureFree™," to record youth sports injuries, including concussions and share that data with parents and care givers. Charlie Wund, CEO says that his system will help streamline the task of cataloging and sharing information.
"It all boils down to the player and his or her teammates," said Ostrup. "We have to step back and become aware of the issue, use keen observation skills for our players on the field. That's the only way that we can help to lessen the incidence of concussion and create a safe environment for sports play. Increasing awareness, with education is only going to make sports participation safer and more meaningful."
Dr. Richard Ostrup has served as the chief of Neurosurgery at both Sharp Memorial Hospital in San Diego and Scripps Memorial Hospital in La Jolla. He is the co-inventor of the Camino Intracranial Pressure Monitoring Device. He has been an affiliated Neuro trauma coordinator for the San Diego Chargers and has a strong interest in concussions and sports neurosurgery, in addition to his interest in the spine, complex spine, brain tumors, and peripheral nerves. Dr. Ostrup is a partner with Neurosurgical Medical Group and has offices in both San Diego and La Jolla, CA.
For further information visit the Web site at: http://www.Neurosurgeon-SanDiego.com. For media inquiries, contact Barbara Burton of The Burton Company (Barbara(at)theburtonco(dot)com) or call 858-775-7787.