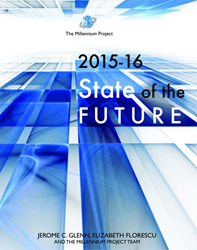 contains the greatest assemblage of data, information, intelligence, and wisdom about the future ever organized in one source
Washington, DC (PRWEB) July 31, 2015
Nearly forty futurists from around the world attended the annual Millennium Project Planning Committee meeting in San Francisco, July 23-24, 2015. This participatory think tank with its 56 Nodes around the world and regional networks in Europe and Latin America reviewed its previous year's work and planned the next year's agenda. This agenda includes:

Producing alternative scenarios and road maps about the impact of artificial intelligence, synthetic biology, nanotechnology, and other technologies on the nature of work and employment in 35 years (2050).
Exploring the use of artificial intelligence in global futures research
Developing an online global futures system to keep track of accelerating change and that can support an organized conversation about the global future with data, information, intelligence, and wisdom about improving the prospects for humanity.
Updating and improving insights into 15 Global Challenges
Upgrading governments' foresight capacity
Supporting university courses on global issues
A key highlight of the meeting was the pre-release of the 300-page "2015-16 State of the Future." "This contains the greatest assemblage of data, information, intelligence, and wisdom about the future ever organized in one source," says Jerome Glenn, CEO of the Millennium Project. The executive summary is available in Chinese, English, French, Korean, Romanian, Spanish, and soon in Arabic, Azeri, Russian, and Japanese.
The Millennium Project is a global participatory think tank connecting 56 Nodes around the world that identify important long-range challenges and strategies, and initiate and conduct foresight studies, workshops, symposiums, and advanced training. Its mission is to improve thinking about the future and make it available through a variety of media for feedback to accumulate wisdom about the future for better decisions today. It produces the annual "State of the Future" reports, the "Futures Research Methodology" series, the Global Futures Intelligence System (GFIS), and special studies. Over 4,500 futurists, scholars, business planners, and policy makers who work for international organizations, governments, corporations, NGOs, and universities have participated in The Millennium Project's research, since its inception, in 1992. The Millennium Project was selected among the top ten think tanks in the world for new ideas and paradigms by the 2013 and 2014 University of Pennsylvania's GoTo Think Tank Index, and 2012 Computerworld Honors Laureate for its contributions to collective intelligence systems.