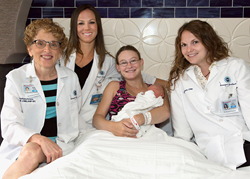 Birmingham, Lake Orion, Clarkston, Metamora, Michigan (PRWEB) July 31, 2015
The Women's Excellence team of Midwives delivered the 100th baby at Beaumont Hospital's Karmanos Center for Natural Birth. The Karmanos Center for Natural Birth provides a supportive, home-like environment for expectant mothers looking for a safe natural childbirth experience. With nurses and caregivers that are trained in holistic birth approaches, patients can expect to be prepared with the education and relaxation techniques needed to experience the benefits of a natural childbirth. The Center opened in November of 2014.
Women's Excellence in Midwifery is a specialty area of the practice for women that desire a personalized approach to pregnancy with one on one care. For those women who are seeking a holistic approach to the natural process of birth their midwives may be the option.