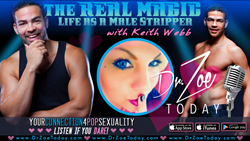 New York, NY (PRWEB) July 31, 2015
Thursday night the Dr. Zoe Today show hosted Keith Webb, known from E! Entertainment's Men Of The Strip and now recently joining Chippendales Las Vegas and International. With an episode titled "The Real MAGIC... Life As A Male Stripper", Dr. Zoe continues to keep her listeners on the edge of their seats.
Host, Dr. Zoe Shuster is renowned for creating an at-home atmosphere with her guests, ensuring her interviews are authentic, unfiltered and uncut. Keith Webb spared no details during his opportunity on the show. Being open about working at gay bars as well as male revues he admitted, "I make a lot more in the gay community than I do with women but women are more fun so it's worth the pay cut."
When a listener asked if any of Men of the Strip was scripted, Keith states it was "90% real" and that "reality TV is an over exaggeration of who we are". Dr. Zoe added that different networks have approached her about doing a reality show, one being completely scripted that she rejected and in talks with others that will give her more creative control. Dr. Zoe Today has featured numerous reality television stars from MTV, Bravo, TruTV, TLC, Oxygen and E! Entertainment.
A prominent topic in this interview was Webb's attraction to larger women (BBW). Wanting to make it clear that this was not something started as a reality television tactic for Men of the Strip he said, "One of the main reasons why they cast me for the show was because I was attracted to bigger women." Thinking back he stated, "I remember the first time I saw a naked woman on the cable channel and I was like 'Wow this is awesome!'. Then I remember the first time I saw my first big girl naked, I was like 'Whoa, this is even better!'. And I never went back." Keith even went into detail about several sexual encounters as well as his open relationship with his BBW porn star girlfriend.
While Dr. Zoe states that her show supports people's individual sexual preferences, it's so important that there is clear communication and boundaries regardless if the relationship is open or monogamous.
The show will be featured all week and will continue to be available in the show archives found in the free "Dr. Zoe Today" app available on the App Store and Google Play or at http://DrZoeToday.com