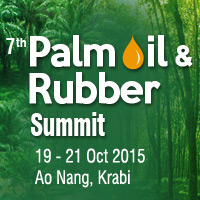 Rubber price movements, sustainability of rubber plantations in Asia as well as maturing Asian palm oil industry's full traceability down to the plantation level will key discussion points of the conference.
Krabi, Thailand (PRWEB) August 18, 2015
The three day summit will open with a day-long discussion on rubber industry's current trends. Representing Thailand – the largest rubber producer is Dr. Paitoon Wongsasuthikul, Deputy Secretary General, Thai Rubber Association (TRA) tasked to explain the 'Government's Initiatives to Shore Up Rubber Prices', especially the fund set up to help rubber farmers. Also from Thailand is Surachai Chetsadakasemwimon, Rubber Plantation Director of Terragro discussing the 'Challenges in Rubber Plantations in North East of Thailand'.
Additionally Veasna Norng, CEO, Japan Cambodia Tropical Plantation Partners will share details of 'Rubber Planting in Areas Previously Cultivated with Acacia' while Dato Dr Kamarudin bin Malek, CEO, Tun Abdul Razak Research Centre, Malaysian Rubber Board will highlight the 'New Developments with Regard to Downstream Activities - New Products from NR and Value Addition'.
Among other noteworthy rubber focused sessions are:

Natural Rubber as a Viable Crop for Investment: Fund Manager's Perspective – New Forests Asia
Choice of Clones and Early Growth in Gabon – Olam International
Rubber Smallholdings: Use of Technology to Overcome Impact of Low Rubber prices on Income – Greenyield
Measures Adopted by Rubber Plantations in India to Remain Profitable – Aspinwall & Co.
Best Agronomic Practices for Obtaining a Vigorous and Uniform Stand of Rubber at Opening – Applied Agricultural Resources
On Day 2 of the summit, two optional site visits – one is a Rubber Plantations and Factory visit in Ao Leuk District, Krabi and another to Univanich Oil Palm Research Centre in Plaipraya District, Krabi, are specially arranged for delegates keen on first-hand learning experience.
The last day of the summit is dedicated to palm oil industry in Asia with sessions by notable industry players like Sime Darby's Dr. Simon Lord, Executive VP - Group Sustainability & Quality Management talking about their latest NBPOL Merger as well as Soh Kim Yaw, Vice President of Felda Global Venture Plantation Malaysia bringing an update on their business in Malaysia and overseas projects.
Delegates can also get market insights on 'Diverging influences from oilseeds on palm oil' by Siegfried Falk, Co-Editor, Oil World and an industry perspective on sustainability & traceability in the palm supply chain by Alexandra Experton, Supply Chain Sustainability Manager, Cargill Tropical Palm Holdings.
The palm oil market highlights also include:

GRAINE – First of its Kind Public-Private Partnership to Support Agriculture Development in Gabon – Olam International
High Carbon Stock Study with Consideration of Socio-economic Factors to Re-define Areas for Oil Palm Development – Technical Committee of High Carbon Stock (HCS) Study
Latest Developments in Indonesia's Biodiesel Industry – Pertamina
VIR Gene Update: New Genetic Research to Improve Palm Oil Productivity – Malaysian Palm Oil Board
Latest Progress in Oil Palm Breeding and High Yielding Planting Materials – Applied Agricultural Resources
Plantation Intelligence – A Novel Approach to Improving Performance of Plantation Fertilization – International Plant Nutrition Institute
View event website for more details or contact Ms. Hafizah at +65 6346 9218.