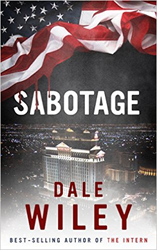 This is a phenomenal read. The characters stayed with me long after I had finished the book. The author takes you on a journey with many unexpected turns.
Charleston, SC (PRWEB) August 03, 2015
Every hour explosions rock America. There is no rhyme or reason to where they appear: big cities, small towns, even rural back roads. The sinister message that suddenly appears on America's computer screens is clear: No one is safe:

Not disgraced FBI agent Grant, awaiting his call back to the big time;
Not rapper Pal Joey, an international sensation;
Not savvy, stunning beauty Caitlin, the ultimate Sin City party girl;
Not even Naseem, the would-be martyr who helped plan the attacks and now finds himself double-crossed.
As an unhinged mastermind paralyzes a nation, these unlikely heroes must put aside their pasts and work together to stop him before more hours bring more disasters.
All roads lead to Las Vegas, where the plan begins to unravel. Can four people, united only by their hatred of this singular villain, finally stop Sabotage?
The novel is available for download through the Apple iBookstore, Amazon, Barnes and Noble and other stores on August 3rd 2015.
About the author:
Wiley, now a heralded Missouri foreclosure defense attorney, was once a young DC intern himself. He owned and ran the independent record label Slewfoot for several years, and his producing work was featured on NPR's Morning Edition in an interview with Bob Edwards. His current work takes him all over the state, fighting for homeowners' rights.
Follow Dale on Facebook and on Twitter @wileylaw2.